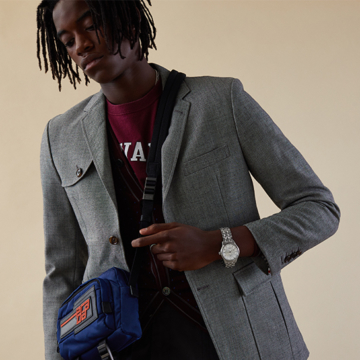 WFH Remix: How To Style Suiting With Streetwear
There are no ifs, ands or buts about it — pre-COVID, this season was poised for the return of the suit. Before kitchen counters replaced cubicles and Animal Crossing and Minecraft were elected acceptable work-meeting grounds, menswear was becoming all business again. The sartorial pendulum swung away from streetwear, as predicted by Off-White and LV menswear designer Virgil Abloh, and major houses manifested tailoring all over their Fall 2020 runways. 
Streetwear, however, did not disappear from the equation altogether. In fact, the runways told a different story about the trajectory of fashion, showing a future that gave streetwear and suiting equal weight for everyday apparel. "At the Fall 2020 men's shows, designers offered plenty of modern proposals for embracing the suit," says Men's Editorial Manager Alex Tudela. "At Prada, Fendi and Lanvin, boxy and relaxed suit silhouettes led to more comfortable underpinnings and athletic accessories such as chunky cardigans and skate-inspired sneakers." 
The newly imagined mash-up of suiting and streetwear could not have arrived at a better time. For months now, many have relegated anything without a drawstring, elastic waistband or zipper to the back of their closet… but those days are over. "Designers showed multiple iterations of the classic suit and broke down the pieces to resonate with a more casual consumer," says Alex. "The main lesson to be learned is tailoring's adaptability to become as relaxed as needed, depending on what you wear with it." 
Styling tailored pieces with laid-back staples is all about putting your personal spin on things… an art that Alex is here to demystify. Read on as he outlines five ways to build WFH-ready fits you'll actually want to lounge around in.
The idea of wearing a full suit in the current climate may seem ludicrous — especially when the heat won't let up. Alex's advice? Ditch the trousers and start with something more casual. "When it comes to combining suiting with streetwear, look to your go-to sportswear pieces first," he says. "One of Martine Rose's Fall 2020 looks featured an athletic zip-up polo and baggy faded jeans at the core, but with a double-breasted jacket thrown on top as the finishing touch. It's about using a more relaxed tailored jacket — perhaps it's double-breasted or unlined or fabricated in soft cashmere — as that last layer. It will give an easy streetwear look more polish for that virtual meeting or for a socially distanced dinner with a friend."
#TRRTip: Double-breasted jackets have the ability to instantly transform an outfit, which may be why sales have risen 20% in the last year. The Italian house Loro Piana leads the pack: demand for the brand's double-breasted suiting is up 384%.
A luxe bag is still one of the best ways to make a statement, and having one on hand will serve you well if you need to go out for a quick errand. "The crossbody bag is perhaps the most notable men's accessory trend to emerge in the past few years," says Alex. "It has gone from skater necessity to high-fashion commodity. Many designers have rid it of its athletic origins, and instead embraced a more minimal and refined shape. Think of the Dior Men saddle bag or a Prada waist bag in its signature black nylon. These are nondescript enough to wear to work (whether virtually or in person), and could be easily paired with a relaxed suit — the bag slung across the shoulder or insouciantly toted by the hand, as seen at the Louis Vuitton and Valentino shows."
#TRRTip: Don't wait to score the waist bag you've been eyeing. Searches for the style are up 1,310%, with bags from Gucci, Louis Vuitton, Supreme and Prada in high demand. 
Pairing your kicks with a two-piece suit is now a classic look, but Alex challenges you to think outside the box when refreshing this combo for 2020. "The recent Air Dior capsule collection offers ample styling recommendations on how to combine sneakers with suits," he notes. "In it, you'll see the ever-popular Nike Air Jordan paired with tailored pleated trousers and a sweater vest, or the sneaker paired with jogger shorts, a bucket hat and blazer. The sneaker design is iconic, simple and structured enough that it replaces the need for a more formal shoe." Hesitant to wear your shoes around the house? Just clean them first.
#TRRTip: Everyone's looking for Jordan 1s right now (inspired, no doubt, by the recent Air Dior release and The Last Dance). Searches have increased 250% yearly. Consignors may be interested to know that Nike Air Jordan resale value has also gained traction, and has risen 21% within the last year.
If you've become accustomed to that sweatpants-all-day life, you don't have to sacrifice it completely to take advantage of fall's biggest trend. Simply choose your favorite sweatshirt and let the other elements of your outfit elevate it. "Consider the blazer-and-hoodie or blazer-and-sweatshirt combination as a blank canvas, especially if they are kept in a similar color palette," Alex advises. "You can personalize the look by incorporating either of the season's must-have accessories as seen on the runway: pendant or chain necklaces, statement pins or dangling keychain charms worn on the lapel."
#TRRTip: The hunt for WFH-ready hoodies has already begun, with searches up 50% yearly. Consider investing in Chrome Hearts and Supreme hoodies now — the former's resale value has risen 58% yearly, while the latter's has risen 23%.