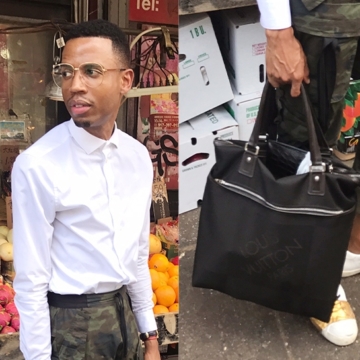 How To Sell Clothes, Jewelry & More Online, According To A Pro
If you want to sell clothes online (or jewelry, or handbags, or even more), there's never been a better time. With many people staying home, the closet clean-out urge is strong, and new innovations are springing up to make selling from the socially distanced safety of home easier than ever. Case in point for us here at The RealReal: we've gone virtual. In the beforetimes, it was all about visiting consignors in their homes to make selling easy. Now, you can simply hop on a video chat with one of the same Luxury Managers who would have come to meet you in person, and get the same one-on-one White Glove service. We'll even send a van to pick up your items for free post-virtual appointment. But how does it work, you ask? To break down all the details, and answer many of the common questions consignors have about selling clothes online, we tapped our own Washington, DC, Luxury Manager Dwayne Brice. Here he shares his tips, how our experts help with pricing and some of the most amazing pieces sellers have consigned with him (hint: Hermès). 
First things first. Can you tell us a little about your background and how you got started at TRR?
Prior to starting at The RealReal over a year ago, I worked in both luxury fashion retail and fragrance and beauty for about 15 years — specifically in sales, buying and management. And independently, I consulted with individuals and businesses on aspects of luxury brand management and strategy that encapsulated everything from personal shopping and wardrobing to revisioning brand identities and helping to launch and position businesses in the prestige sector.  
What is your role as a Luxury Manager at TRR?
I am the Luxury Manager for Washington, DC, where I focus on introducing new clients to TRR and working with a select group of returning VIPs to strengthen that bond by providing an unparalleled consignor experience. 
The RealReal Washington, DC Luxury Manager Dwayne Brice
Usually we make it super easy by going to consignors' homes, but things are obviously different now. What's changed?
Consignors today are actually finding the virtual process a welcome addition to our portfolio of options to consign. It gives them greater flexibility and control while still feeling effortless. In thirty minutes, a consignor can hold up dozens of items to their screen, then just wait for curbside pickup. No hassle, no real work involved. Where processing would take hours during an in-home, the virtual experience shaves off time and inspires them to keep going through their closets for more. The less work they have to do the more interested they are in repeat appointments to really deep clean their wardrobes. One of my VIPs now consigns every month, truly inspired by the expediency of it all. We've also introduced the option to sell certain items upfront, which means you don't even have to wait for your items to sell to get paid.
What is a typical virtual appointment like?
Once a virtual appointment is booked (and you can even choose your own time on our schedule), I send a detailed introduction to each potential consignor, walking them through the steps of the process. This acts as a guide to the many questions consignors have and sets the stage for our meeting. I even highlight sending over photos so I can get preliminary pricing ready for the appointment. 
When on the call, I introduce myself and ask the client how they heard about us and how their day is. It's always great to make a personal connection from the start to break the ice and create a rapport rather than a business transaction. We all have a personal connection to our items and it's great to show that understanding and care. 
We then start looking at their pieces and I snap photos of each to inventorize their consignment while writing a clear description of each item to include in their notes. If items were submitted for pricing, I go over those listing ranges as well. I also ask for very specific items, like the 5 S's for example: swim, sunglasses, sandals, sneakers and silk scarves. This gets the consignor thinking about items they may not have thought of before. 
I usually end by asking if they prefer a complimentary curbside pickup or to mail their own items in. If the former, I immediately book that day and time; if the latter, I send over their packing list with images and descriptions along with a prepaid mailing label. And that's it! I let them know once items are checked in at our e-commerce center, they will start appearing on their My Sales page, which acts as their consignment hub. 
#TRRTip: Earn up to 80% on men's sneakers priced $195+ Shown here: Prada Dress, Off-White x Nike Jordan 1 Sneakers, Dior Denim Jacket
What are your tips for a successful virtual consignment appointment?
For consignors: 
-The most successful appointments are those when consignors have organized and prepared their items for viewing ahead of time. 
-Always check our Designer Directory and condition standards to make sure we can accept your items.
-If you have time, put similar items together (tops, dresses, sunglasses, bags, etc.) 
-Set up the call in a well-lit area. Often, pictures can be dark or fuzzy in virtuals, so I also gauge how consignors feel about sending supplemental photos of their items after the call. 
-I also encourage all consignors to log in to their My Sales page on therealreal.com and to peek around the site before we connect. The more familiar they are with how we operate and the consignment process, the smoother the virtual appointment. 
Dwayne, virtual appointment-ready.
For myself as a Luxury Manager: 
-Patience is essential for a great appointment. The virtual experience is new for everyone and we have to be mindful that this is many a client's first introduction to us as a company and luxury brand. The other morning, for example, I had a consignor who couldn't get her computer or phone camera to work, so I took 15 minutes to help her set up her virtual apparatus. 
-Highlighting our full-service experience is key. We do it all, from picking up your items and shipping them to authentication, photography, listing, dealing with shoppers, sending out checks — the consignor can truly sit back and relax. Everyone loves this about us, certainly if they've consigned on other platforms. Our job is to take the stress away from this process and to get them the best return for their items. 
-Listening to the consignors' wants and expectations. The reality is we're not the platform for every consignor, and that's okay! We should also make sure that even the consignors who aren't a fit for our platform still have a great experience and know that we're here as a resource for them both today and in the future. 
#TRRTip: Earn up to 85% on fine watches, and up to 70% on fine jewelry. Shown here: Bvlgari Tubogas Watch, Tiffany & Co. 18K Triple Drop Earrings, Platinum 3.03ctw Diamond Engagement Ring
Let's talk pricing. How does that work for consignors, and how do we get them the most for their items?
I've noticed with virtuals, pricing has become much more important. I actually encourage this talk because it creates a sense of transparency. I ask for photos of any pieces they are price-sensitive on or even curious about, and can send these to our experts. When the price ranges come back, I message them to the client, even taking the time to write out the expected commission on each item should they sell within our target of 30 days. It is so clear, I know that if the consignor agrees to consign, they are completely comfortable in handing over their items. I also stress the factors that are important in getting them the most for the items: brand, condition, age, market saturation/demand and retail value. 
You mentioned our experts. How do they come into play?
We have no greater tool than our experts! Daily (actually hourly, lol) I am sending photos in for pricing, shipping high value pieces to our expert offices, g-chatting questions to gemologists, horologists and handbag experts and really utilizing the vast knowledge of our teammates to showcase a personalized level of service found nowhere else. 
Do you have any stories of consignors you've helped or standout pieces you've seen?
One consignor booked an online virtual appointment and had high value handbags, so we looped in a handbag expert to sit in on the call. I had the consignor send photos of each bag for preliminary pricing. They were four Hermès bags that would potentially list at $5,000, $8,000, $17,500 and $23,000 respectively. During the call, our handbag expert was so knowledgeable about each bag the consignor was impressed. The three highest priced bags have already sold and this was an amazing reflection of what can come of virtual appointment. 
#TRRTip: Earn up to 80% on handbags. Shown here: Hermès Togo Kelly Retourne 28, Hermès Epsom Constance III 24, Hermès Swift Birkin 25
What is your favorite part of your job?
I love interacting with my clients on a regular basis and having each one feel as though they are a VIP. Consignors are really grateful for the work we do and love that they have a reliable Luxury Manager to guide them through every aspect of working with The RealReal. It really sets us apart. 
What has been the most surprising part of your job, or working with consignors virtually?
Having worked in retail so long, it's pretty hard to surprise me, ha! Though during online virtual appointments, it's always a surprise if your screenshots aren't blurry. LOL. Having movement on the screen definitely lends a certain difficulty to capturing items and sometimes you have to remind the consignor to slow down or hold steady. I'm used to it by now! 
Are you a consignor yourself?
Yes, I've shopped on the site since 2013 and first consigned in 2015. I actually just sent about 60 of my own items in. 
What are your top tips for editing your wardrobe?
Editing your wardrobe can be a very personal endeavor. I'd say a basic starting point  for anyone is to first take an inventory of your personal style. What is your sartorial mood? What would you like your wardrobe to say about you? Is it communicating what you want it to? If the answer to the latter is no, then it's time to root out the items that obfuscate your personal vision. I just did that with my own closet, pulling pieces that defined a style or fashion era in my life that I've moved on from or should probably! This included everything from sunglasses and denim to coffee table books and jewelry. In the end it frees up space, literally and figuratively, to really define your style and focus on a clear, unified dressing language. 
Ready to book a virtual appointment with your own personal Luxury Manager? Right this way.