How To Clean A Watch
Luxury watches mean many things to many people. For the technically minded, they're the pinnacle of human innovation and ingenuity, beacons of precision and unparalleled craftsmanship. For the organized and painstakingly prompt, it's all about the functionality; watches are the reliable timekeepers that keep everything on track (down to the second). For the peacocks, fine watches are there to flaunt and flex, the ultimate status symbol. Though many watches spend their days tucked away for special occasions and as part of collections, others serve their purpose every single day. Like any item that gets its fair share of regular usage — WFH-ready jeans, home investment pieces, go-to sneakers — your watch deserves proper care to keep it at its best. This may sound like a chore, but in fact cleaning up your beloved timepieces will take no time at all.
"Cleaning your bracelet every couple of months can be a quick, fun task, and doing it frequently keeps your watch looking fresh all the time," says Senior Watch Valuation Manager Danny Avizov. Whether you're a novice watch cleaner looking for a step-by-step guide or a timepiece-polishing pro who just wants a refresher, read on — Danny breaks down how to clean everything from bracelet to bezel, explains the appeal behind "honest" watches and divulges the one thing he hopes you never do to your timepiece (especially if you want to consign it one day).
How To Clean A Watch: The Crystal
A. Lange & Söhne Lange 1 Watch; Ulysse Nardin Skeleton Tourbillon Watch; Audemars Piguet Royal Oak Watch
Your watch's dial is the main event, and luckily when it comes to cleaning, it's low-maintenance. "Depending on the watch you own, it may be fitted with a hesalite/acrylic/plexi-crystal, glass, mineral crystal or sapphire crystal," says Danny. "Clean a crystal made of any of these materials with a soft, non-abrasive cloth. This can remove any fingerprints, dust and oils." 
If the residue on your watch crystal is putting up a fight, a Q-tip can help save the day. "When a cloth isn't doing the best job, take a Q-tip, dab it in rubbing alcohol and gently clean off the residue in question," advises Danny. "I wouldn't recommend using an alcohol pad to clean the crystal, however. If any of the alcohol leaks between the edges of the crystal, it may end up drying out the crystal gasket. I find that I can control the amount of alcohol when using a Q-tip, and can make sure it only reaches the places I want it to go."
Unfortunately, if your watch crystal is scratched instead of just dirty, your options are limited. "There is little to nothing that can be done for most scratched crystals, unless yours is of the hesalite variety," says Danny. "With a mild abrasive — I used one called Polywatch — and a cloth, you can rub light scratches off your crystal in a matter of minutes. Glass crystals, found on early, vintage watches, need to go through special machining in order to be ground down and polished. When scratched, both mineral and sapphire crystals will need to be replaced, as their scratches cannot be removed."
How To Clean A Watch: The Bracelet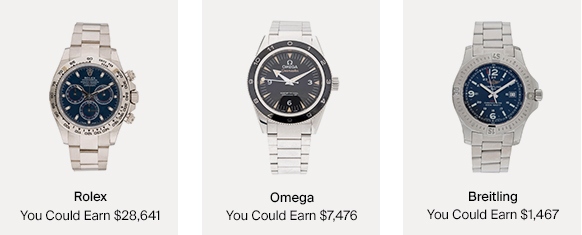 Rolex Cosmograph Daytona; Omega Seamaster "Bond"; Breitling Colt Watch
The bracelet or strap on many watches adds to their iconic look and allure… which is why it's extra important to keep it looking its best. If you find yourself fidgeting with your bracelet often, or regularly expose it to the elements, it's high time you gave it some care.
"Unless you have access to an ultrasonic machine, I find the easiest way to clean my metal watch bracelets is with a soft clean toothbrush," says Danny. "Lukewarm water and a soft soap of your choice will always be a winner." Bonus tip: use a biodegradable soap made of natural, certified organic ingredients for an environmentally friendly option. "In fact, you can still have positive results without the use of soap, as the warm water will be able to loosen the particles caught between your links. You may have to work through the process once or twice but the end results are worth it."
To get started, assemble all of your materials on a clean, dry surface. "Mix a drop of liquid hand soap into a bowl of lukewarm water, then dip the toothbrush in and rub the bristles in circular motions on the underside of the bracelet," explains Danny. "Make sure to get in between the links and all the crevices to expel any debris trapped between them. I do this across the length of the interior of the bracelet.  After that's done, while holding the head of the watch, dip the watch bracelet into the water, giving it a little shake. Rinse it off with lukewarm tap water. Do not let the watch head get wet throughout this process. Unless you know for a fact that your watch is completely water-sealed (do you have your seals checked every two to three years, as recommended in your watch manual?), I would not recommend submerging the entire timepiece in water."
Dive watches are designed for underwater adventures, but Danny recommends only dunking it for a quick clean if you're 100% sure the seals are air and water-tight. "Make sure you send water-resistant watches directly to the brand manufacturer or authorized service provider every two years to have the seals checked or replaced," says Danny. "If the watch is water-sealed, then there should be no issue with getting the whole watch wet and drying it off afterward with a clean towel. Also, I would not recommend using your fancier towels, since loosened debris may not entirely wash off when you rinse the bracelet in water."
For gold watches with a noticeable patina or oxidation, Danny advises sticking to a professional cleaning solution for the best results. "Special polishing cloths are available with an infused compound on it," notes Danny. "Use these to clean any oxidation off of the metal. White gold watches are often rhodium finished. They can lose their luster if you polish them too much, so clean them very carefully."
Leather and exotic straps should never be cleaned with water. For leather straps, stick to a leather-cleaning solution and carefully apply it while avoiding the watch's metal components. 
How To Clean A Watch: The Bezel
Bvlgari Serpenti Tubogas Watch; Van Cleef & Arpels Alhambra Watch; Cartier Ballon Bleu de Cartier
Caring for watch bezels, even those with a little bling, won't require any additional resources… but Danny has a warning for anyone getting their watch-cleaning advice through social media. 
"On Instagram, I have seen people 'cleaning' their watches under the force of steam machines," says Danny. "Please, for the love of your watch, never allow anyone to do this to your timepiece. The steam has an easier chance of penetrating your seals, which will eventually cause damage to the watch. The only way to have your watch properly steam-cleaned is if a watchmaker has removed the movement and disassembled the case. Instead, take out that trusty toothbrush again and use it to clean off your watch's bezel, diamonds included. Again, make sure your watch is water-resistant before taking a wet brush to the watch head. Dry it with a soft cloth." 
Keeping Your Watch "Honest"
Patek Philippe Calatrava; Vacheron Constantin Classique; Omega Classic
"Honest" vintage watches are highly prized in the horological world. So what are they? Unrestored and unpolished timepieces that have their original factory-installed parts intact. Aficionados go wild for "honest" vintage watches, like those with natural patina. "Many vintage gold and gold-filled watches tarnish over time and show signs of oxidation or patina," says Danny. "These days, most collectors, like myself, will recommend leaving these watches completely untouched, as there is a perceived value in the originality that accompanies the watch's condition. It shows aging has taken place and most watch savants love that, which makes it beneficial if you intend to sell your gold watch at some point in the future."
Faded "tropical" dials and "ghost" bezels are also highly coveted (and rare), in large part because these assets are technical defects that were later rectified. For example, Rolex Cosmograph Daytonas with black dials (Reference 16520) were produced between 1993-1995 and are extremely valuable for one particular defect. Reference 16520s were varnished with a lacquer called Zapon, but due to its ineffective coverage, the dial began to fade the longer it was exposed to sunlight. This is known as the "Patrizzi" effect, and it makes these watches true collector's items (and some of the watches with the highest resale value).
Though it may seem antithetical to all of Danny's advice thus far, honest watches play by a different set of rules. Preserving a watch's natural aging process is simple, according to Danny. "Just wear your watch," he says. "Enjoy having it on your wrist and don't abuse it.  If you are wearing a vintage watch that has patina, a tropical dial or faded bezel, it got that way because you or someone else wore it often enough to get it to that point. Fading and discoloration primarily occur while wearing a watch, not while being stored in a box. Be aware, however, that with the updated materials used in production today, you won't see the same type of color changes take place on modern wristwatches."
"Honest" vintage watches are rare, but they do make an appearance on TRR every now and then. "This vintage Patek Philippe Calatrava and Vacheron Constantin Classique both look to be in original condition, without obvious evidence of having previously been polished," notes Danny. "They also have their original crowns. No work has been done to refurbish their dials or replace or refinish the hands or indexes on the dial. It seems like most of the case edges have some sharpness to them and that any parts that are worn are likely from natural wear and not the polishing wheel. The Vacheron appears to be a great example of original case polishing techniques that have been maintained and not polished away, as we can see the slight 'sunburst' design, with the striations emanating from the crystal outwards to the case edges."
Whether you keep it lovingly tarnished or not, however, there are certain things you should not do when wearing your watch. "Don't wear any watch while playing the drums or performing tasks that could cause impact and shock, as this can damage the watch's movement," says Danny. "If your watch is on a leather or exotic skin strap, you might want to consider not wearing it while exercising, cutting the grass or doing the dishes." 
What You Should Leave To The Experts
Maintaining a watch's inner workings should always be left to the experts. "It's always a good idea to open your watch's instruction manual (or find it online if it didn't come with it) and service it according to the brand's specific guidelines," says Danny. "Most mechanical watches will require movement maintenance every four to six years. And yes, even if it keeps the best time and never loses a second, have it serviced. Would you decide not to change the oil in your car because it's still driving fine after thousands of miles? It's the same concept with your timepiece. Think of your watch as a miniaturized engine that needs its seals replaced and oil changed in regular intervals. Make sure you leave all the movement work to the trained professionals. Attempting to tinker with your own mechanical timepiece is a recipe for disaster."  
Wear, Care, Consign
Caring for your watch regularly won't just pay off today or tomorrow — it will also benefit you in the long run when you're ready to consign. "Watches in pristine condition (with their boxes and original materials, no signs of wear) or excellent condition (simply no signs of wear) sell 8% faster than watches in very good or good condition," notes Merchandising Manager Matthew Clarke. "Watches in pristine condition maintain the highest resale values of all watches, while watches in excellent condition hold, on average, 7% higher resale value than watches in very good or good condition." That extra effort to clean your watch will make all the difference when you want to maximize your return-on-investment.
Start earning for the watches you no longer wear & consign now.