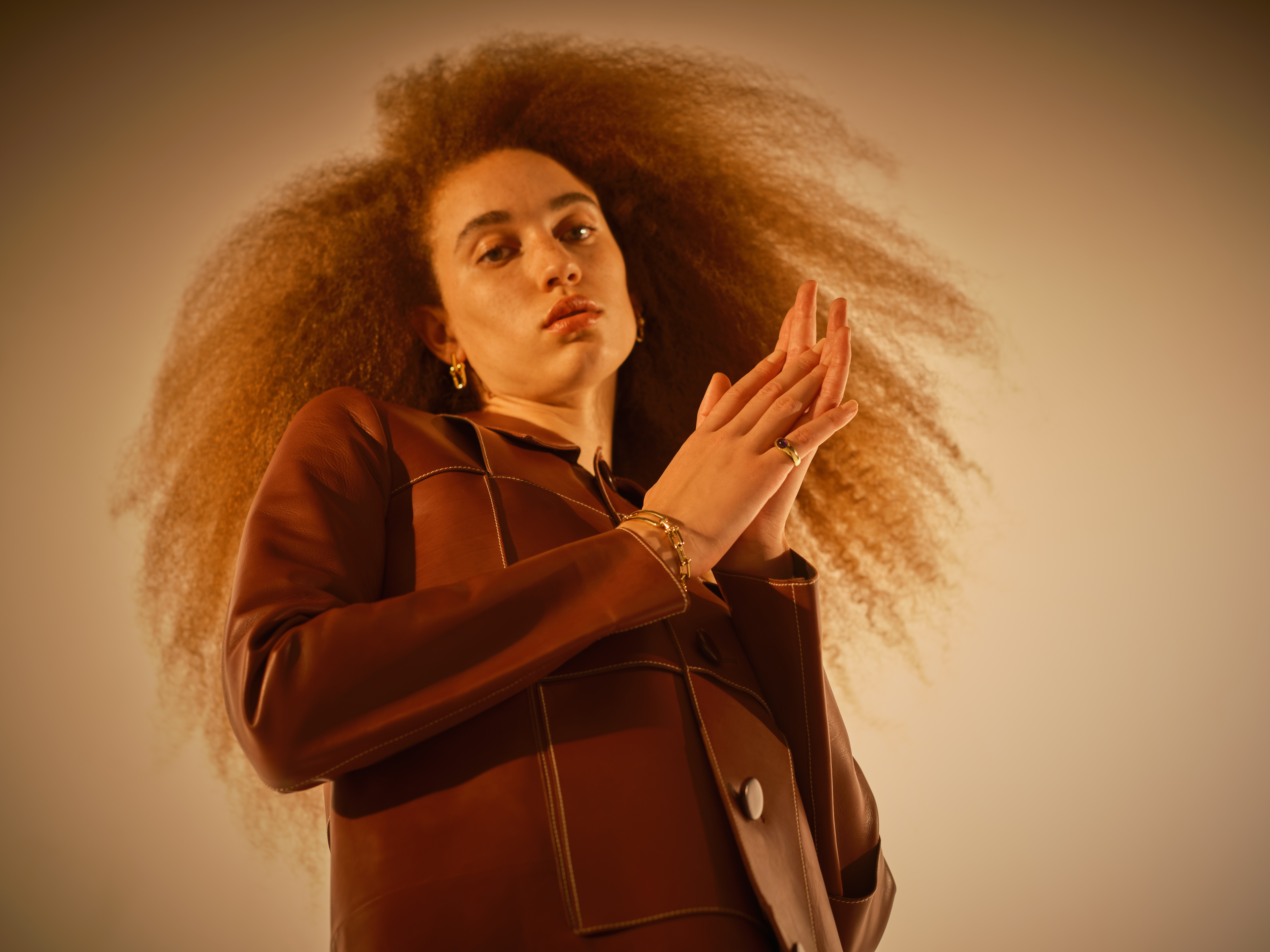 How to Spot Real Tiffany & Co. Jewelry, From Elsa Peretti to Paloma Picasso
Tiffany & Co. is known for producing masterpieces. The jewelry house is a cultural icon. The place where nothing very bad can happen to Holly Golightly. The place where revered designers like Jean Schlumberger and Elsa Peretti made magic. Today's celebrities still turn to Tiffany & Co. when they want to stun on the red carpet. The house is back in the spotlight after being acquired by LVMH and collaborating with the likes of Jay-Z and Beyonce, Pharrell, and Jimin of BTS. 
Though the American luxury jeweler may be changing things up, one thing's still for certain: with its storied history and enduring popularity, Tiffany & Co. creations are prime targets for counterfeiting. The RealReal Fine Jewelry & Watches Valuation Manager Cristina Rodrigo shares the telltale signs of authentic Tiffany & Co. jewelry.
Tiffany & Co. Jewelry: How to Spot a Fake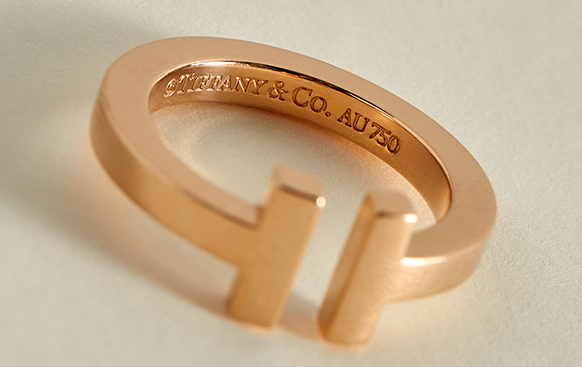 On pieces like this Tiffany T ring, the hallmark will indicate metal purity. AU750 reveals that this ring is 18K gold.
As one would expect from an iconic luxury brand, Tiffany & Co. has rigorous standards for the incredibly high quality materials used to craft their jewelry. "Tiffany & Co. will always hallmark their pieces to indicate the metal purity," Rodrigo notes. 18K gold will be stamped with '750,' sterling silver with '925' and platinum with '950.' For Tiffany & Co.'s Rubedo collection, which is made with a hybrid metal, pieces will simply be stamped with the word 'metal.' Every piece of Tiffany & Co. jewelry we receive at The RealReal is double-verified. The RealReal uses X-Ray Fluorescence (XRF) to verify the elements and their quantities that compose the metal without damaging the item."
Similarly high standards apply to the diamonds used in the house's jewelry. "Tiffany & Co. only uses high-clarity and high-color diamonds that uphold GIA grading standards," explains Rodrigo. "The diamonds set into Tiffany & Co. engagement rings go through a certificate system, which ensures transparency around the diamond and its origins. Diamonds are processed in Tiffany's very own laboratory, and a Diamond Certificate with an assigned report number is produced. Sometimes this is accompanied by a laser inscription — the report number can be inscribed directly onto the diamond, and this allows us to match the diamond to the report.
Tiffany & Co. Jewelry: Craftsmanship Is Key
Stone settings on authentic Tiffany & Co. pieces, like this engagement ring, should be clean, consistent and well-tooled.
Tiffany & Co. jewelry is specially made in countries all over the world including Spain, Italy, France, Japan, and the U.S., and only the highest level of craftsmanship will do. "Gemstones and diamonds selected for
Tiffany jewelry
will be well-matched and of very fine quality," says Rodrigo. "Within their
Diamond Engagement collections
, for example, Tiffany & Co. has specific diamond quality standards that will fall within the range of GIA's grading system — from D to I color and IF to VS2 clarity. All diamonds used in Tiffany & Co. pieces should be evenly set and perfectly matched in color."
In addition to the quality of the materials, pay close attention to the finishing. "Each piece should be well-finished with every element polished beautifully," notes Rodrigo. "Stone settings should be clean, consistent and well-tooled. Sometimes, one of the best indicators of whether a piece of jewelry is truly fine is the craftsmanship and level of finishing that has gone into the back or underside of the piece. On an authentic piece you expect to see everything polished beautifully, links that articulate smoothly, à jour work that is fine and well-tooled, stones that are evenly set and well-matched, and a nice heavy heft to the metal. Red flags include links that are not soldered closed and polished."
Tiffany & Co. Jewelry: How to Check Engraving & Hallmarks
While branding placement will vary from piece to piece, the brand signature on an authentic Tiffany and Co. necklace should read 'Tiffany & Co.' or 'T & Co.' as seen on this piece above.
All Tiffany & Co. jewelry pieces should be marked with the brand name, designer signature (if applicable), purity marks, country of manufacture, and sometimes a serial number. "These are typical Tiffany engraving examples we look for when authenticating the brand's jewelry," explains Rodrigo. "The locations of signatures and hallmarks will vary depending on the collection and available surface area of a particular piece. The font, style, and arrangement of these signatures and hallmarks will also vary depending on the collection and time period the piece was manufactured."
"On link style bracelets and
necklaces
we look for a tag near the clasp," says Rodrigo. "On a bangle or cuff style bracelet, we look to the interior of the piece. Similarly, signatures and hallmarks on a Tiffany ring will be placed in the interior—we look inside the shank towards the bottom. On
earrings
, we may find them placed on the earring posts, or the interior surfaces of larger styles. Brooches will be signed on the back of the piece. Regardless of where on a piece of jewelry you find these Tiffany engraving symbols of authenticity, the quality should be well-defined and crisp. In addition to the quality of the engraving, ensure that the brand signature reads 'Tiffany & Co.' or 'T & Co.'" 
Tiffany & Co. has allowed only a few select jewelers to sign their work, including Jean Schlumberger, Paloma Picasso, Elsa Peretti, Frank Gehry and Angela Cummings. Each designer has brought their own individual aesthetic and artistry to the brand. "Authentic pieces that are part of a designer's collection should always feature that designer's signature," notes Rodrigo.
Tiffany & Co. by Jean Schlumberger
On a Jean Schlumberger-designed Tiffany & Co. Rope X ring, the rope detailing should be rounded and well-defined.
Jean Schlumberger began working for Tiffany & Co. in 1956, and is revered for his statement jewelry. "
Jean Schlumberger
often used bold colored gemstones and enamelwork," says Rodrigo. "Schlumberger designs are whimsical and nature-inspired—think flowers, butterflies and birds. You'll see a high level of craftsmanship in each piece with many hand-fabricated elements." Gold and diamonds also feature prominently in the designer's work, especially within Schlumberger's Rope collection.
"One specific design from Schlumberger's
Rope collection
is the Rope X ring," notes Rodrigo. "Schlumberger-designed pieces should include Schlumberger Studios, Schlumberger Std. or Schlumberger as the designer signature. When checking these rings for authenticity, pay close attention to the construction of the X motifs as well. They should have clear layers, one leg of the X over the other, with well-defined, rounded rope detailing."
Tiffany & Co. by Elsa Peretti
The Doughnut bangle pictured here shows Elsa Peretti's signature, which should feature the E in her name as a line.
The
Bean
. The
Open Heart
. The Bottle. The
Bone cuff
. The late Elsa Peretti's universal yet unique symbols have become some of Tiffany's most recognizable icons. "Peretti's bold, modern designs, like the Bone cuff, take on an organic and sensual form," notes Rodrigo. Since her arrival at the brand in 1974, Peretti pioneered jewelry design by glamorizing sterling silver and considering the fluidity and tactility of what she was creating. 
"Elsa Peretti's sterling silver collections are often counterfeited," notes Rodrigo. "When authenticating
Tiffany & Co. jewelry by Elsa Peretti
, we always look for the designer signature, and specifically the anatomy of Elsa Peretti's correct signature. The E in Elsa should look like a line and the I in Peretti should have a dot that extends beyond the cross for the T."
Tiffany & Co. by Paloma Picasso
On authentic pieces designed by Paloma Picasso, like these earrings, her cursive signature should be present at the interior of rings. The signature can also be found at the back of authentic Tiffany and Co. necklace charms or clasps and earrings, though placements may vary.
If you've ever admired Tiffany & Co.'s script-like Graffiti collection, you can thank
Paloma Picasso
. She began her relationship with Tiffany & Co. in 1979 by creating a place setting, and soon went on to glamorize the taggings commonly found in New York City subways with her jewelry. "
Paloma's Graffiti
, one of her most notable collections, was also her jewelry debut with Tiffany and was inspired by urban street art," says Rodrigo. "Her pieces are intricate and highly detailed and, similarly to those by Schlumberger, often feature bright, colorful gemstones."
Olive Leaf
,
Paloma's Melody
, and Paloma's Studio are also popular collections by the designer, who continues to work with Tiffany to this day. "On authentic Tiffany & Co. jewelry designed by Paloma Picasso, her cursive signature should be present at the interior of rings or at the back of necklace charms and earrings," says Rodrigo. Placements can vary depending on the size of the jewelry.
Tiffany & Co. by Frank Gehry
On authentic Frank Gehry-designed Tiffany & Co. jewelry, the designer's last name should be spelled correctly and engraved in his handwritten signature, as seen on this pendant necklace.
Though many know the architectural work of Frank Gehry, few may know the Tiffany & Co. jewelry designs. Gehry is well known for the Walt Disney Concert Hall in Los Angeles, the Neuer Zollhof in Dusseldorf and the Olympic Fish Pavilion in Barcelona, among countless other buildings, and his unconventional approach to architecture is echoed within his jewelry. "Gehry created several famous collections for Tiffany, including the
Torque
,
Fish
,
Orchid
and
Fold
collections," says Rodrigo. "His architectural aesthetic makes it easy to identify his designs. He incorporated a variety of natural materials in his collections including silver, ebony wood and onyx."
Frank Gehry-designed Tiffany & Co.
pieces are no longer produced by the brand, but that hasn't stopped counterfeiters from faking former designs. "When identifying fake signatures, we'll see incorrect spacing and fonts being used, sometimes even the misspelling of the designer's name," says Rodrigo. "Make sure Gehry is spelled correctly and engraved with his handwritten signature."
Shop our best Tiffany & Co. jewelry pieces now.
All items are pre-owned and consigned to The RealReal. Trademarks are owned by their respective brand owners. No brand owner endorses or sponsors this ad or has any association and/or affiliation with The RealReal.
Please note: Brand standards, logos and other identifying features may have changed since the time of publication.