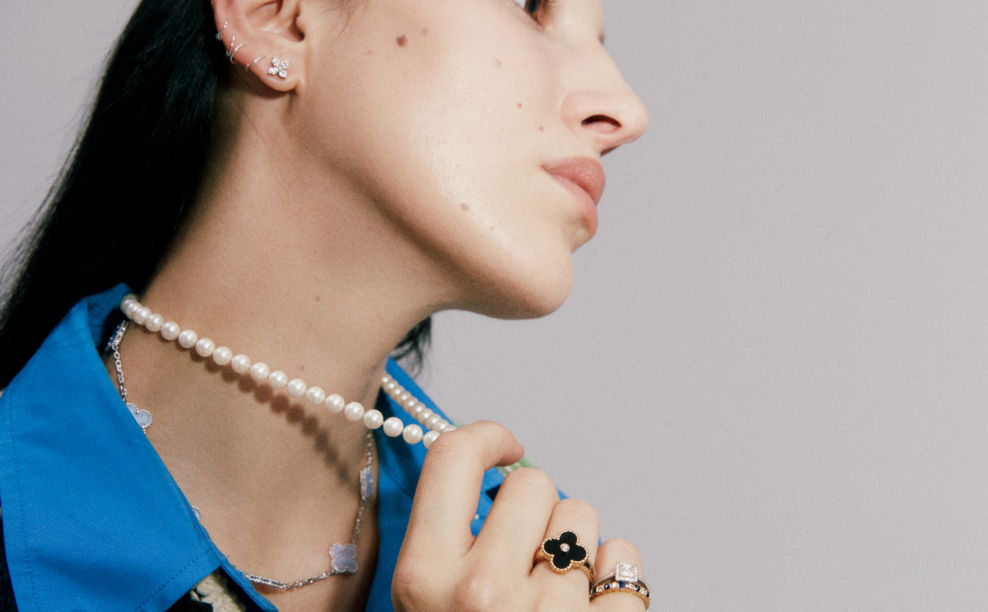 How To Spot A Real Van Cleef & Arpels Alhambra
Van Cleef & Arpels is one of the world's most renowned jewelry houses. Celebrated for its iconic collections and exquisite haute joaillerie creations, the brand's meticulous craftsmanship is at the heart of its exquisite pieces. 
One of the most recognizable symbols of the celebrated maison is the Alhambra. Introduced in 1968, the quatrefoil design is a symbol of luck, originally worn in the '70s by the likes of Romy Schneider,  Françoise Hardy, and Princess Grace of Monaco. Part of the charm of the Alhambra is the original necklace's ease of layering, making it a favorite today with the likes of Kate Middleton. Over time, Van Cleef & Arpels has introduced a range of Alhambra styles in a colorful variety of gemstones — agate, carnelian, chalcedony, tiger eye, and turquoise — making the Alhambra collection an enduring classic. Its popularity has risen throughout the years, and on The RealReal, 87% of Alhambra pieces sell within 30 days. 
Not only has the allure of Alhambra endured, it has evolved over its 50+ year history, branching beyond those first four clovers. For purists, the Vintage Alhambra collection is true to the aesthetic of the line's original design — the classic station necklace. Magic Alhambra plays with proportion, mixing and matching larger and smaller quatrefoils, while the Sweet Alhambra collection shrinks everything down to a delightfully delicate mini size. Lucky Alhambra explores symbols of good fortune beyond the four-leaf clover, with playful nature-inspired designs featuring butterflies, leaves, hearts and stars. For minimalists, Pure Alhambra offers a smooth, burnished finish and Byzantine Alhambra leaves negative space where a stone would be, revealing only a chic, gold outline.
With a storied reputation comes many imitators. For a guide to spotting the real thing, we asked TRR Lead Fine Jewelry & Watches Valuation Manager Samantha Equale for her tips. Read on for a lesson on finding your own authentic Alhambra good luck charm.
Van Cleef Alhambra Signatures & Hallmarks
"Van Cleef & Arpels is very consistent when it comes to signatures and hallmarks on their creations," says Equale. All Van Cleef & Arpels jewelry will have a trademark, serial number and metal hallmark, and while brand stamping has varied over the years, it should read either "Van Cleef & Arpels" or "VCA." While many people refer to the brand simply as "Van Cleef," if you see a piece marked only with this, it is a red flag that it might not be authentic. Van Cleef & Arpels uses only 18 karat gold, so each piece should be marked "750" or "Au750."
"Van Cleef & Arpels artisans are extremely experienced and proudly hallmark each jewelry piece," Equale explains. "Depending on the collection and the available surface area to execute a clear signature, the maison gets creative. Often for the Alhambra collection, the signature is showcased as 'VCA' on a tag close to the male end of the clasp or on the side of a motif adjacent to the clasp. It's also on this clasp that you can find the unique serial number and the purity of the metal used. The hallmarks are not always as obvious — it can take a skilled and patient eye to locate them. For necklaces and bracelets in the Alhambra collection, the hallmark can be located on the ring near the clasp. For earrings, on the earring closure (one ear clip may have the trademark and the other the serial number, or they may both be on one clip). And for rings, look outside of the shank towards the bottom. It is possible for the hallmarks on rings to wear with use, however the placements on other pieces rarely experience wear that would limit the visibility of the hallmark."
Van Cleef Alhambra Materials
As you would expect from one of the world's top jewelers, only the very best will do when it comes to the metals and stones used to create Alhambra pieces. "Van Cleef & Arpels will only use gemstones of the finest quality, from their diamonds to their chalcedony," says Equale. "Following the GIA grading criteria, the house exclusively uses diamonds with a color range of D to F and a clarity range of Internally Flawless (IF) to VVS2 for their jewelry creations."
Van Cleef & Arpels Lucky Alhambra Butterfly Pin
"When selecting how and where a stone should be cut, Van Cleef & Arpels' craftsmen are extremely particular. Stones like chalcedony that naturally show striations and optical characteristics are carefully planned out. Chalcedony naturally has opaque, semi-transparent, transparent, and translucent areas. Stones that exhibit two or more of these features can be selected for a jewelry creation where transparent and translucent areas allow one's natural tone to show through the stone, making each piece truly unique." Any Alhambra jewelry that does not meet these strict gemstone criteria, for example a diamond with a visible inclusion or low color grade, poses a red flag for authenticity. Additionally, stones should be cut to fit each quatrefoil perfectly, with no gaps and no looseness in the setting.
Van Cleef Alhambra Craftsmanship
"Van Cleef & Arpels is one of very few jewelry houses to polish each creation down to fine silk thread," notes Equale. "The paper thin threads are woven into each crevice to ensure no surface is without a fine, mirrored finish. This is most notable on the Pearls of Gold featured on many Van Cleef & Arpels collections, including Alhambra. If you have a jewelry item you believe to be Van Cleef & Arpels and you notice poor or unfinished polishing characteristics, there could be some concerns for authenticity."
Mother of Pearl: Van Cleef & Arpels Sweet Alhambra Necklace & Van Cleef & Arpels Magic Alhambra Necklace
Check to make sure each piece is flawless, with finely finished joints, prongs and chain. Also, take a careful look at the shape of Alhambra pieces — an important factor that should be consistent, and which is used to distinguish among the Alhambra collections. "Counterfeit Alhambra pieces often have the wrong shape," warns Equale. "Van Cleef & Arpels has a very thorough and calibrated process. Measurements for consistency are inspected during each step. This not only takes a skilled artisan but also requires time and patience for accuracy and consistency. Often with counterfeit Alhambra items, this step is missed or poorly executed."
Feeling lucky? Shop our collection of authenticated Van Cleef Alhambra here.
All items are pre-owned and consigned to The RealReal. Trademarks are owned by their respective brand owners. No brand owner endorses or sponsors this ad or has any association and/or affiliation with The RealReal.
Please note: Brand standards, logos and other identifying features may have changed since the time of publication.