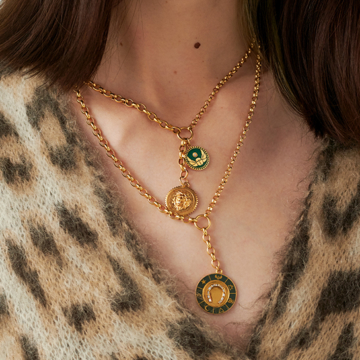 Why You Should Sell Your Jewelry Right Now
To sell your jewelry, or not to sell your jewelry? It's a big question. After all, we're told that diamonds are forever, and maybe the same goes for gold, silver and platinum. But what if it's not forever you're after? Jewelry is personal, and everyone has their own reasons for moving on.
Maybe the Cartier that once called to you finds its way out of your jewelry box less and less. Or the siren song of trending new pieces is becoming irresistible. It could be time to move on from memories, or trade in and trade up to something newer (and shinier). Who can be blamed for their magpie tendencies?
Whatever your reasons, a little help deciding never hurt. That's what we're here for, with not only a quick guide, but advice from experts who know every facet of jewelry. Enter TRR's Steffi Lee, Fine Jewelry & Watches Editorial Manager, and Eileen Donovan, Fine Jewelry & Watches Valuation Manager. Their advice comes at the perfect time since this month you can earn more than ever — up to 80%* — when you sell jewelry with The RealReal. And if you're wondering 'is there somewhere to sell jewelry near me?', we can help with that. At our many locations you can book a free appointment with an expert who can tell you what your pieces are worth. Make your way through the guide below, and get all the answers to creating your dream jewelry collection.
Should You Sell Classic Jewelry?
Cartier Love Bracelet; Van Cleef & Arpels Alhambra Necklace; Hermès Clic Clac
Classics are classic for a reason. They stand the test of time, and go with most everything. That might mean you're still wearing these pieces even if you've had them for years. But it might also mean … you've been wearing them with everything for years. If you're ready to move on, you're in luck. These pieces tend to retain high resale value and are consistently in demand with jewelry buyers. Take the '70s icon that's going strong fifty years later: the Cartier Love bracelet. "This piece has been in almost constant production since it was designed by Aldo Cipullo in 1969," says Donovan. "It goes with everything and can be worn anytime." Shoppers think so too — its resale value is up 22% this year.
Demand is also strong for jewelry icons like Van Cleef & Arpels, Hermès and Tiffany & Co. "Van Cleef Alhambra necklaces can sell for up to 95% of their retail price," says Lee. "Shoppers snap up Tiffany T bracelets fast, with 80% of them selling within 30 days." Donovan notes that the T bracelet's "easy-to-wear, pleasing symmetry has contributed to it being consistently in-demand since its debut in 2014, with demand increasing annually on the secondary market." Hermès Clic Clacs are on the rise as well, with resale value up 18% this year. And don't count out Louis. "I had a client consign his Louis Vuitton Keep It bracelet, priced over retail, just a week ago. Logo pieces, especially Vuitton and Chanel have huge appeal and are performing extraordinarily well," says Donovan.
That said, if you're really still in love, keep! There's no reason to part with a beloved bracelet, necklace or ring that's still an essential element of your look.
Should You Sell Diamond Jewelry?
Cartier 1.08ctw Diamond Stud Earrings; Temple St. Clair Quartz & Diamond Necklace; 14K 5.84ctw Diamond Tennis Bracelet
Need some clarity on whether to sell diamonds? Start by thinking about condition. If they've lost some luster, or have other issues like a loose setting, it's time to give your diamonds some TLC to make the most of the 4 Cs. "In terms of impacting jewelry value, taking care of one's diamond jewelry can be thought of as an investment in and of itself," says Donovan. Keeping your diamond pieces at their sparkling best makes sense whether you want to keep them in your collection, or consign and maximize your earnings. Jewelry that's in better condition not only sells for more, pieces in excellent and very good condition sell 20% faster on The RealReal than items in good condition. The good news is there are many easy ways to take care of diamonds. "Jewelry cleaner is readily available online," notes Donovan. "Gentle, slow movements in warm water with very soft brush can prevent buildup of products such as lotion, that can harden over time and threaten the structural integrity of the jewelry."
Once your diamonds are shining brightly again, consider whether they belong in your collection. "If you have a pair of stud earrings but are looking to upgrade to a bigger size, consign your former pair, and use the commission towards your desired size," suggests Donovan. You'll likely be able to trade up soon — "73% sell within 30 days on the site," says Lee. Tennis bracelets anyone? Signs point to yes, with 68% of pieces selling within 30 days. "Due to their hardness, diamonds are ideal for setting in a bracelet, which is why diamond tennis bracelets have been considered a jewelry essential since that fateful day when Chris Evert broke hers during the US Open," notes Donovan.
Should You Sell Trending Jewelry?
Jennifer Meyer Diamond Leaf Necklace; Maria Tash 14K Diamond Drop Earring; Foundrae 18K Pendant Necklace
If you're always on the hunt for the next big thing, chances are you're already ready to move on from some on-trend pieces. That's an M.O. that can reap you some big returns. Have Maria Tash pieces adorning one of your many piercings? "The ability to mix and match is highly coveted and the minimalistic and dainty appeal of Maria Tash earrings makes these pieces highly in demand," says Donovan. Sell now and capitalize on the tough-luxe, celeb-favorite designer's popularity with shoppers. "Maria Tash resale value is up 21% this year, with pieces selling for up to 93% of retail," says Lee.
Not many things in life are a sure bet, but selling Foundrae jewelry quickly comes close. The line's symbol-embellished charm necklaces, rings and more are so popular that 100% of pieces by the brand sell within 30 days, according to Lee.
Speaking of symbols, animal designs are driving the popularity of some other trending lines. "Flora and fauna motifs perform well and are highly sought-after," explains Donovan. Case in point: Jennifer Meyer designs, which sell for up to 80% of retail, and have seen an 18% rise in searches this year. And of course, there's Gucci. "Any Gucci logo pieces that you are not wearing, I highly recommend consigning," says Donovan. "Both animal motifs and the appeal of a logo brand have made this one of the most desired brands." Resale value for Gucci jewelry is up 22% this year.
Should You Sell Unbranded Gold & Diamond Jewelry?
18K Yellow Gold Hoop Earrings; 14K 1.10ctw Diamond Eternity Band; 14K Yellow Gold Paperclip Chain Necklace
Maybe your jewelry collection isn't about the iconic names or the up-and-coming designers. Maybe it's about those pieces that speak only through their design and materials. "When we talk about unbranded fine jewelry, we are generally referring to a piece that is not by a copyrighted or registered designer," explains Donovan. "These pieces command different pricing and premiums on the secondary market. While a brand name and original retail can drive the price of a piece, unbranded jewelry can be seen as more of a blank canvas."
While many unbranded pieces hold value in their materials alone, certain styles are seeing higher demand in the resale market. Searches for all kinds of yellow gold chain necklaces are up an astounding 373% this year, but one style in particular is what everyone's after. "Yellow gold paperclip chain necklaces, so named for the long oval shape of the links, are immensely popular. If you have one you are not wearing, now is the time to consign," advises Donovan.
There's another yellow gold jewelry staple that's on the rise: hoops. Searches for gold hoops are up 68% this year, and 86% sell within 30 days. Good news if you have bigger (or smaller) hoop dreams. "Size is really a matter of personal preference, so if you find yourself with a pair that you don't wear as often, consigning is a good way to give new life to a pair of hoops. A size that is too big or too small for one person is the ideal size for another. Hoops are like jeans, they go with anything and can be dressed up or dressed down," says Donovan.
Should You Sell Emerald, Ruby & Pearl Jewelry?
Jacquie Aiche 14K Emerald & Diamond Ring; 14K 1.45ct Ruby Pendant Necklace; 18K Pearl & Gemstone Irene Neuwirth Earrings
In a year like 2020, we could all use some color — and symbols of luck, love and nature. This could help explain why emerald, ruby and pearl jewelry is on the rise with shoppers. "Emeralds have been prized for millennia and they show no signs of slowing down," says Donovan. "Green has been hailed for centuries as a symbol of good luck and calm, something needed now more than ever. The rarity of the elusive bluish-green of top gem material contributes to its desirability, and part of emeralds' allure is also found in their many inclusions, which can be seen as a kind of map or history of the stone." If your emeralds are ready for their next chapter, now is a great time to sell. "Searches for emeralds are up 34% this year, and 70% of pieces sell within 30 days," notes Lee.
You may have fallen out of love with your ruby jewelry, but it could be a match for someone else. "Rubies are a variety of the species corundum and top material commands some of the highest prices on both the retail and secondary markets," says Donovan. "The hardness of rubies, second only to diamonds, makes them an excellent choice for those who are looking for an alternative to diamonds for pieces like engagement rings."
Pearls are having a moment, too. 61% of pearl pieces sell within 30 days. "Unlike other gemstones, pearls need no enhancement by cutting or polishing and can be set the moment they're harvested," notes Donovan. "They also require great care, as the many thin layers of nacre can be easily damaged by perfume or improper storage. Pearls have found continued popularity in classic settings, such as simple studs, or when combined with other gems, such as in the Gumball hoops by Irene Neuwirth. Pieces by Mikimoto regularly command top premiums."
Ready to sell your jewelry? We can help with that. Get started here.
*From 12/1/20 – 12/31/20: Earn 80% of the selling price when you consign a fine jewelry item from a brand on The RealReal's accepted designer list with a list price of $750 or more. Commission rates subject to change at any time.