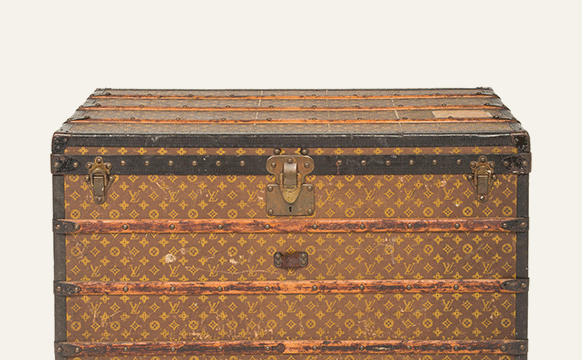 Expert Take: the History Of the Iconic Louis Vuitton Steamer Trunk
Streetwear giant Supreme has painted them red and stamped them with the über-coveted box logo. Legendary photographer Cindy Sherman has adorned them with her theatrical self-portraits. The Louis Vuitton trunk has come a long way since its revolutionary debut as the first flat-topped luggage in 1858, and many former travel companions now lounge comfortably as luxe additions to living rooms around the globe.
But before it was a piece of hype history, an artist's canvas and a modern day coffee table, the Louis Vuitton steamer trunk was toted worldwide as a portable treasure chest of prized possessions. It was a refinement of existing trunks by Louis Vuitton himself, the son of a farmer and a milliner. He was born in 1821, in a small village in eastern France named Anchay.
"Tired of life in the countryside, he embarked to Paris on foot at the age of thirteen," says Associate Home & Art Merchandise Manager Brenna Tracy. It took him two years to reach his destination. "Once there, Vuitton became set on becoming a master trunk-maker. At the time, did he know that one day he would become a household name because of these wares? Likely not." He apprenticed with a malletier — a boxmaker and packer — named Monsieur Maréchal, honing his skills as an artisan for seventeen years. In 1854 he opened his own workshop in the heart of the city, at 4 Rue Neuve-des-Capucines.

Louis Vuitton in a bed trunk's driver seat with family & workshop members, circa 1888. Source.
It was soon after the creation of Maison Louis Vuitton that its founder, who branded himself as a "specialist packer," introduced an exciting concept to the industry. He broke away from the popular dome-topped trunk (originally designed to repel and deflect water in ships and trains) with a flat trunk coated in waterproof canvas. "Consistent innovation, increased functionality and attention to detail is what catapulted Vuitton into the spotlight," says Tracy. "His new trunk was stackable, lighter and able to brave the elements much better than leather. This is considered the birth of modern luggage."
Vuitton's trunks included shelves and compartments for all of a traveler's necessities, as well as elastic bands at the trunks' top interior for securing important documents. Some were meant to act as full wardrobes; when many trunks were placed on their side and then opened, travelers could store delicate garments on branded hangers to avoid wrinkles and damage.
Judging A Trunk By Its Cover

Louis Vuitton's trunks became increasingly in-demand alongside the interest for traveling by both locomotive and ship, and as his company grew, he began to create new decorative designs for the trunks' exterior. "We're able to authenticate and date these trunks through the different manufacturing processes and materials Vuitton used," notes Tracy. "The first trunks were made with a simple grey canvas in 1854, and did not include many signature motifs or traits." 
Starting in 1872, LV trunks featured red striped cloth exteriors and Vuitton allowed his clients to choose from maroon and beige options. The ever-classic checkered Damier pattern was later produced in 1888, and was offered in either a black or brown color scheme.
"The trunk seen here is dated roughly between 1885 and 1890, based on the accompanying label," says Tracy. "Though the pattern is indecipherable and has worn away due to use, it had a canvas exterior and, combined with our information about the label, we can conclude that it likely featured the checkered Damier pattern."

"The iconic Louis Vuitton monogram was not introduced until 1896 by Louis Vuitton's son, Georges, and ironically this design was an effort to make Vuitton's trunks counterfeit-proof," explains Tracy. "If you find a Louis Vuitton trunk that is listed as being of a certain year, double check to see if its exterior pattern aligns with the alleged year of manufacture."
The Proof Is On The Label

"Interior labels tell us an incredible amount of information about the origin of the trunk," says Tracy. "All Louis Vuitton trunks come with two identifiers that help us authenticate them: a serial number and an official label." Depending on age and use, a label may be missing, but even without the label a serial number may still be legible. Labels, serial numbers and addresses of shops listed on the labels will help authenticate and date a trunk.

"Labels help to date a trunk because they signify a change of decade, a new style or a new LV store," notes Tracy. "These labels here reveal that the trunks were produced at the turn of the 20th century. We can cross-reference the label's design with the information listed on it, primarily the establishment date of the stores. The Louis Vuitton label featuring numerous etched seals and medals lists both Paris and London stores and includes a serial number, leading us to conclude it was manufactured between 1885 and 1890." Labels like this commemorate various medals Louis Vuitton was awarded, including those from the 1867 Exposition Universelle in Paris and the 1868 Exposition Maritime Internationale, among others.
"The label featuring a more calligraphic logo offers Paris, London, Lille and Nice locations," continues Tracy. "The fact that the Champs-Élysées store — which opened in 1914 — is not listed helps us date it to sometime prior to that year."
Hardware Is Key

To make sure your Louis Vuitton trunk is one hundred percent authentic, it's vital to closely examine the trunk's hardware and additional functional elements. "Louis Vuitton markings should be featured on rivets, interior roof linings, straps, handles, latches and buckles," states Tracy. "Though each and every trunk may not include all of these details, especially early trunks, this is an excellent place to start." The signature interlocked LV monogram can border trunk edges and 'Louis Vuitton' may be legible on rivets, as seen above.
In 1886, Louis and Georges Vuitton revolutionized luggage locks with a single lock system that they eventually patented. "He claimed it was so effective that not even illusionist and escape artist Harry Houdini could break free from one," says Tracy. "And maybe it was! Houdini never accepted the challenge, at least not publicly."
Many of the trunks' locks will be engraved with the lock's patent number, the addresses of two major store locations and the company's name. "On the brass locks, a key number will be engraved," notes Tracy. "The number is specific to a customer and allows its owner to recreate a key in case of loss."
Louis Vuitton Trunks, Then & Now

Throughout the years, Louis Vuitton trunks have evolved from steamer trunks and personal wardrobes to traveling beds and, today, choice investment pieces. "Collectors, take note — these antique steamer trunks fetch incredible prices in the resale market and sell within days of hitting the site," says Tracy. "Contemporary versions sell for thousands at retail, and since Louis Vuitton is still renowned to this day for unparalleled materials and an artisan's unique touch, the demand and prices for vintage pieces are rising."
Does your trunk — new or old — have a custom monogram? No problem. "We do accept trunks, contemporary or otherwise, with initials," explains Tracy. "Antique trunks with travel stickers and initials are also incredibly sought-after. In addition to a trunk's expert craftsmanship and distinctive design features, the added personalization tells a story of its former life. That's something priceless… the history of an object, where it's been and what it's seen."
All items are pre-owned and consigned to The RealReal. Trademarks are owned by their respective brand owners. No brand owner endorses or sponsors this ad or has any association and/or affiliation with The RealReal.
Please note: Brand standards, logos and other identifying features may have changed since the time of publication.