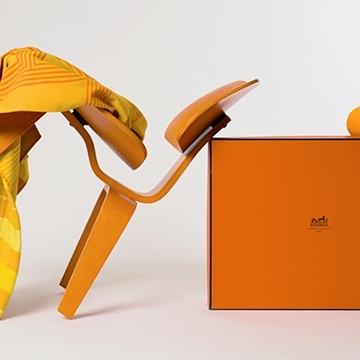 The Top 5 Home Designers Worth Your Investment
Choosing furniture and decor for your home is a bit like finding a partner — it all boils down to personal preference, your wants and needs, and a connection that's fit to last. And when it comes to heritage home designers, longevity is the name of the game. From the craftsmanship to the classic design, there's a reason pieces from storied brands are appreciated for generations. But how do you know which pieces will be a match made in heaven, or just a passing fancy? Read on for Associate Home & Art Director Brittany Gersh and Director of Trust & Estates Karin Dillie's advice on the brands that will never let you down and how to choose the right investment piece for you.
Herman Miller
Eames LCW Lounge Chair; Noguchi Table; Nelson Swag Leg Desk
Look no further than the furniture of Herman Miller to satisfy your midcentury modern cravings. Pieces like the Eames lounge chair, designed by husband-and-wife team Charles & Ray Eames, are not only iconic, they're designed to stand the test of time. "Herman Miller revolutionized how people shopped by producing good design at accessible price points and using humble materials like moulded plywood," says Brittany Gersh. "The brand was instrumental in changing the look of the modern home, and their legacy remains just as strong today." The takeaway: one of the 20th century's most desirable furniture brands is still in demand, making it a great deal if you score Herman Miller in the resale market, and a safe investment if you decide to consign it one day.
Christofle
29-Piece Ruban Or Partial Dinner Service; Silverplate Double Old Fashioned Glasses; Malmaison Teapot
Christofle was founded as a silversmithing company in Paris during the 1830s, and though it now extends its offerings to everything from fine jewelry to objets d'arts, the brand's silver and china serveware are highly sought-after. Embodying the essence of that old French je ne sais quoi, the brand has remained coveted for timeless designs like the 1960s-era Malmaison line, with its intricate leaf motif and elegant shapes. But aside from a fantastic ROI, how do you know if a particular item is truly worth the money? "An investment piece is something that you live with every day, something that only gets better with age," notes Karin Dillie. "These heritage brands create items that are built to last, to be loved and cared for. When you're thinking about the type of home that you want to create, I suggest opting for once-loved pieces that you can give a new narrative to."
Hermès
Avalon Throw Blanket; 4-Piece Chevaux a la Couverture Mini Ashtrays; Pippa Side Table
Nothing says luxury investment quite like the house of Hermès. With its equestrian background, impeccable leather goods and world-renowned craftsmanship, you can't really go wrong with anything the French brand creates. And if you're interested in top-tier decor with great resale value, it's time to get comfortable. "Hermès' Avalon throws are so coveted, they often resell for 90% of the retail price," notes Gersh. Birkin lovers will appreciate the same cultural cachet that accompanies an Avalon blanket — the checkered pattern, soft cashmere-and-wool touch and variety of chic colors makes it an icon in its own right.
Herend
Cheetah Figurine; Large Rothschild Bird Vase; 26-Piece Chinese Bouquet Table Service
"When Queen Victoria purchased a hand-painted china service from Herend in 1851, it really cemented the brand in the heritage history books," says Gersh about the Vienna-based porcelain manufacturer. "Since then, their legacy has endured, with a collector base that's as strong as ever." Herend's dinnerware, vases and signature fishnet-patterned figurines are all unique and noteworthy in their own ways, but the fact that they're handmade and hand-painted makes each piece feel like a rare, one-of-a-kind find. "A service like this stunning 26-piece set will last forever, and it brings an element of tradition into your home," advises Dillie. "Whether you see it as a way to elevate the dining experience or simply as something to collect, Herend is a brand with impeccable quality and unparalleled design that you can pass down to your children."
Knoll

Platner Side Table; Barcelona Chair; Saarinen Round Dining Table
Luxury enthusiasts with a modern aesthetic will forever be enamored with Knoll. "Knoll produced furniture that elevated everyday spaces, from boardrooms to living rooms," explains Gersh. "Sophisticated pieces like Ludwig Mies van der Rohe's Barcelona chair are extremely collectible." Originally designed with the King and Queen of Spain in mind, the aforementioned chair was part of architect Mies van der Rohe's vision for the Barcelona Pavilion, a building that he was commissioned to design for the 1929 International Exposition in Spain. "When thinking about the pieces you want to grow with, invest in the history of an object, whether that's the design history or even the mystery of a piece's former lives," says Dillie. "Either way, it'll make a great conversation starter, and will contribute a thread to weave into your own life story."
Need a little more investment inspiration? Shop our editors' picks.