How To Spot A Real IWC Watch
IWC has made a name for itself in the watch world, and if you're unfamiliar with the horological powerhouse, chances are it won't be that way for long. Last year GQ crowned IWC's Portugieser model the Most Popular Dress Watch of the Year, and the iconic line just expanded with a new model. IWC watches can be seen on the wrists of Dwayne "The Rock" Johnson, Jamie Foxx, Bradley Cooper and even Emily Ratajkowski. Whether you're learning about IWC watches for the first time or have collected them for years, one thing's for sure — IWC watches are everywhere. And when you trace IWC watches' storied history, you find the perfect marriage of traditional Swiss craftsmanship and pioneering American entrepreneurship. 
In 1868, Boston watchmaker Florentine Aristo Jones founded the International Watch Company in Schaffhausen, Switzerland. Aristo Jones' goal was to enlist the region's skilled artisans while employing American production techniques. Another advantage of choosing Schaffhausen was its proximity to the Rhine River, which ultimately hydro-powered his machines. "Though the Industrial Revolution had generally transformed manufacturing in Europe and the United States, at the time of IWC's founding watchmakers primarily crafted watches in their homes," notes Serge Ekmekjian, Associate Valuation Manager of Fine Jewelry & Watches at The RealReal. "Aristo Jones broke away from the norm and created a fully fledged watch factory to manufacture luxury timepieces for the American market. Once his dream was fully realized and IWC's watchmaking facilities were well established, the brand quickly became one of the most successful watch companies."
IWC gained a solid reputation for its pilot watches in the 1930s and even created a wristwatch for British military use during WWII. The house also produced the first wristwatch incorporating a compass, innovated more accurate movements and developed waterproofing technology that could withstand new depths. These achievements cemented their presence in the luxury watch market. 
"During the early 20th century, the International Watch Company had a wider range of products than its contemporaries," notes Ekmekjian. "Their offerings featured everything from precise, reliable pilot's watches to beautiful luxury timepieces such as the IWC Portugieser, also known as the Portuguese. Due to the brand's heritage and impeccable quality, IWC timepieces have been popular among watch enthusiasts for years. Unfortunately they've also become susceptible to counterfeiting." So how can you spot the real deal? Ekmekjian explains how everything from the dial to the fine details can reveal an IWC watch's authenticity.
Real IWC Watches: The Dial
When inspecting an IWC Pilot's watch or other model for authenticity, start with the focal point. "The dial is always the first thing you see when you look at a watch, and it should also be the first area you inspect," notes Ekmekjian. "With counterfeits we often find mismatched colors in the numbers, and occasionally faux pieces will have the wrong fonts for the numbering and lettering. The Swiss company uses the highest quality metals to create the face of the watch. You should expect to find uniform colors across the dial and very precise laser etching." 
The subdials can also tell a lot about an IWC watch. "IWC watches' subdials and hands should have placemats that align perfectly with the dial and show laser-sharp precision," says Ekmekjian. "On counterfeits, we often find subdials that are either too close or too far from the center. Sometimes the subdials aren't quite symmetrical on faux pieces. On authentic IWC watches, the subdials should be symmetrical."
Real IWC Watches: The Materials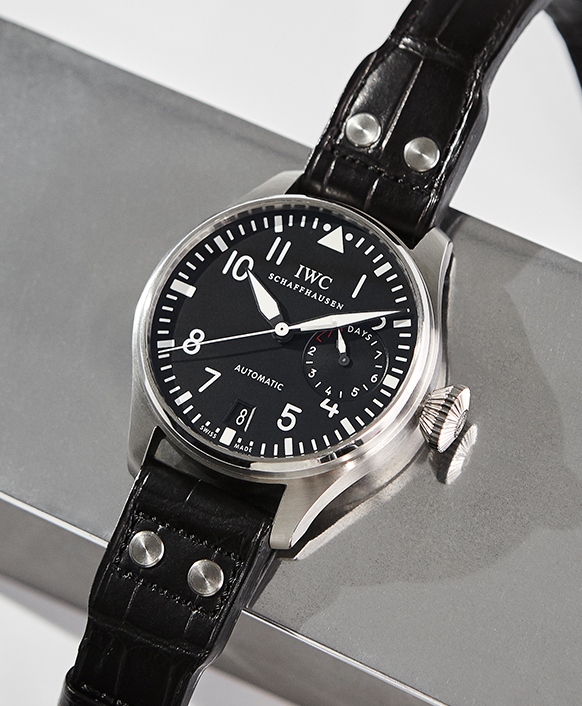 IWC is a luxury watch brand with exacting standards, so the materials can be a huge tell. "On authentic IWC watches, you should expect to see nothing but the highest quality materials paired with exceptional craftsmanship," says Ekmekjian. "More recent models should include a sapphire crystal over the dial, a material that is used in almost all luxury watches because of its scratch-resistant properties. An easy way of testing the crystal is to place a drop of water on the surface. The water should retain surface tension when it is on a sapphire crystal. If the crystal is actually glass or plastic, the water will disperse."
How a watch fits and feels on your wrist can also lead you to sniff out faux IWC watches. "The bracelet or strap is a key aspect of a real IWC watch," explains Ekmekjian. "For stainless steel models, IWC uses adjustable links, allowing the wearer to alter the fit when necessary. Counterfeits will often not use adjustable bracelets, since they favor cheaper, mass-produced bracelets. Many IWC watches, like the above Big Pilot's watch, feature leather or alligator straps. These straps should have a patina-like shimmer. Counterfeits often overlook this sheen and are unable to source high-quality leather."
When it comes to the watch's metal, it's best to consult the pros. "Models that are made using precious metals like gold or platinum should always be tested by a watch professional for metal purity," notes Ekmekjian. "Counterfeiters will typically use base metal and gold plating or rhodium to give the illusion of an authentic timepiece."
Real IWC Watches: The Functionality
IWC Aquatimer Galapagos Island Watch
Double-checking that your IWC watch functions the way it's supposed to may seem like a no-brainer, but it's still an essential part of authentication. "Make sure that all of the complications — for example, the chronograph function on an IWC Aquatimer Galapagos Island Watch — are fully operational," says Ekmekjian. "The hands should respond swiftly and consistently in a sweeping motion when the pushers are pressed. The pushers should always depress when pushed and the chronograph should be extremely accurate at tracking time. Often counterfeit models will use a lower-quality movement that does not have those complications in place, with pushers and subdials that are only decorative and used to dupe unsuspecting buyers."
When inspecting an IWC watch, make sure to examine the watch's crown. "The crown on IWC watches should be relatively small compared to those of other watchmakers in order to keep the focus on the design and dial," notes Ekmekjian. "On counterfeits, we will see larger crowns that are easier and cheaper to mass-produce, as opposed to smaller crowns that require time to craft. The IWC Pilot's Perpetual Calendar is one of the only exceptions; this model has an almost oversized crown to accommodate a triple-position system, which allows you to effortlessly adjust the subdials."
On both automatic and manual IWC watches, there should be no resistance when winding the watch. "The crown should wind without trouble," advises Ekmekjian. "Listen carefully to the movement while winding. If you hear any crackly gears inside, that's a red flag."
Real IWC Watches: The Hallmarks
IWC Portugieser Regulateur Watch
Experts like Ekmekjian take hallmarks, serial numbers and purity marks into account when inspecting IWC watches. "Any closed casebacks on IWC watches should include the name of the company — International Watch Company — along with the name of the collection, such as Pilot or Aquatimer," explains Ekmekjian. "These should be laser-engraved onto the case and should have a clean and precise finish. Many IWC watches come with exhibition casebacks, allowing a peek at the movement. Movements on exhibition casebacks typically include an engraved brand name."
Watches made of particular metals will also feature accompanying marks. "For gold and platinum IWC watches, we look out for the purity marks and Swiss manufacturing hallmarks," says Ekmekjian. "IWC won't always have the serial number engraved on the back of the watch, but we do see them more on their higher-end luxury watches, including select Portugieser watch models, like the one pictured above."
All items are pre-owned and consigned to The RealReal. Trademarks are owned by their respective brand owners. No brand owner endorses or sponsors this ad or has any association and/or affiliation with The RealReal.
Please note: Brand standards, logos and other identifying features may have changed since the time of publication.