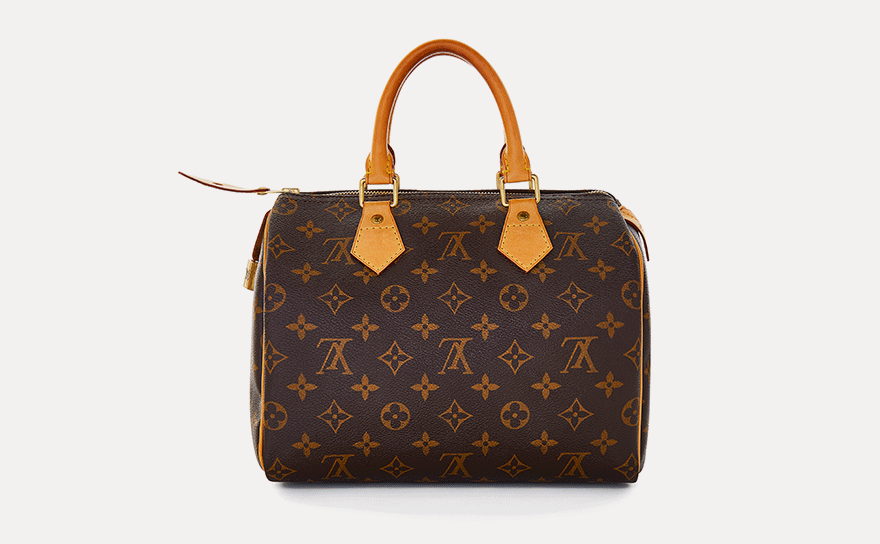 Louis Vuitton On Sale? Yes, Here's Our Guide
Do Louis Vuitton bags ever go on sale? They might not in Paris (or anywhere else they're sold retail), but they do on The RealReal. We're the rare luxury destination where you can find Louis Vuitton bags — including totes like the Neverfull and luggage like the Keepall — plus clothing, shoes, monogram accessories and more for much less than you would normally pay. It's not too good to be true, it's just one of the benefits of buying luxury resale. Like finding the past season pieces that got away and are no longer available in stores. And did we mention it's sustainable? High quality investment pieces made by heritage brands like Louis Vuitton are meant to last, and buying consignment extends their lifecycle. 
It's well known that Louis Vuitton is one of the most desired brands in the world, and since LV on sale is rare, you'll have to be savvy if you want to score that Speedy at 20% off (and that's off a price already below retail!). To help, we put together a guide to snagging smart investments that are real deals, with the help of TRR's
Senior Men's Merchandising Manager Aaron McWilliams
and
Women's Editorial Lead Noelle Sciacca
. These pieces will set you back less, and they're authenticated by our team overseen by 150+ luxury experts — we've even included some choice authenticity tips, courtesy of
Handbags Valuation Manager Robert Finch
.  
How To Score The Good LV On Sale
"
The best way to find the good LV on sale is to be TRR-savvy," says McWilliams. "Search for 'Louis Vuitton' and use the On Sale Now filter to narrow it down — this will populate all LV at 20% off or more based on your previous filters set. See a steal? You better grab it before someone else does.
" And again, that's 20% off the resale price, which is already lower than retail. Major.
On top of that, take a tip from Sciacca: "To find the best-of-the-best product anywhere on our site, I apply the Editors' Picks filter. This function surfaces items that were hand-picked by members of our team who were former magazine editors."
Another smart way to shop is to set up Saved Searches in "MY TRR." Create one for the LV items you want on sale and check for new items when products hit the site every day in the AM and PM. "Louis Vuitton is one of the fastest selling designers in men's and one of our top designers overall in sales and resale value, so urgency is key," emphasizes McWilliams. You can also save your favorites by clicking the heart next to the items you have your eye on — this will add them to your Obsessions. "Start Obsessing the product you like if you're not ready to pull the trigger and get to know what's selling fast," he suggests.
Louis Vuitton Bags On Sale
Louis Vuitton Monogram Briefcase | Louis Vuitton Epi Alma PM | Louis Vuitton Vintage Monogram Speedy 40
"Double handle bags like the Alma and Speedy are going to be big for fall, and are ever-classic," says Sciacca. "As we move into next season, it's really going to be about carryall bags, as opposed to the less functional ultra-mini bag. It's all part of a return to practical, quiet luxury." Originally designed in the 1930s, both the Alma and the Speedy are classic, ladylike shapes that come in a variety of sizes. The art deco-inspired Alma, designed in 1934, is named for Paris' Place d'Alma, and the Speedy is LV's portable take on the larger Keepall travel bag. As seen on recent runways, top handle bags are set to be as popular in 2020 as they were in the 1930s. 
Authenticity Tip: Like many pieces from Louis Vuitton, the Alma bag will typically have a brand stamp either on the exterior side near the base or at the interior lining on a leather patch, depending on when it was made, and some pieces may have both. This also applies to pieces like the Speedy and Pochette Accessoires.
Men's Louis Vuitton Sale Picks
Louis Vuitton Marco Monogram Wallet | Louis Vuitton 2019 Virgil Abloh Shirt | Louis Vuitton Stephen Sprouse Graffiti Sunglasses
"Any monogram bag is a safe investment, but to highlight a more accessible price point I'd like to share one of our best sellers, a classic coated canvas wallet:
Monogram Select
," says McWilliams. Another top pick? Anything from Virgil Abloh's groundbreaking collections for Louis Vuitton. "Virgil intersected prestigious luxury with streetwear and created a historical collection," says McWilliams. "Your best bet in finding a score on sale is clothing. Outerwear, sweaters, hoodies, and t-shirts can sometimes be found at over 20% off list price!" he notes. 
Authenticity Tip: The font used for the graffiti logo throughout the Stephen Sprouse collection is consistent. With this, you can use any piece from the collection to match the font on another piece. The collaboration was initially released in 2001 and featured fairly muted graffiti tones on monogram pieces. In 2009, then-Creative Director Marc Jacobs decided to do a tribute collection for the late Stephen Sprouse which featured the bright neons that made the graffiti pieces so popular to this day. Because of this, the original pieces will have date codes from early 2001 whereas the more recent pieces will have date codes from the end of 2008 through very early into 2009. 
Louis Vuitton Monogram On Sale
Louis Vuitton Monogram Wallet | Louis Vuitton Monogram Initiales Belt | Louis Vuitton Boîte Bouteilles et Glace
Ironically, the monogram motif was invented by Louis Vuitton's son Georges in 1896 in an effort to prevent counterfeiting. "Any LV piece, any style, if it's monogram, it's a good investment. Louis Vuitton monogram has been around 120+ years … enough said," explains McWilliams. It has since become one of the most coveted, and counterfeited, patterns in fashion, with many distinct versions. At The RealReal we authenticate every piece, but they're so popular, they often sell out fast. If you find the monogram piece on sale with your name on it, add to cart ASAP. 
Authenticity Tip: A common misconception is that monogram canvas should have a crisp and precise monogram print throughout. Actually, the current monogram has a slightly fuzzy edge around each letter and symbol throughout the monogram print. Monogram placement will always be methodically placed exactly the same for every style. The only change will be if the style has been updated or if the piece is a different size.
Women's Louis Vuitton Sale Picks
Louis Vuitton Sneakers | Louis Vuitton Shirt Dress | Louis Vuitton Cat-Eye Sunglasses
"Right now you can find brand classics like
monogram wallets
and
Alma
bags, as well as of-the-moment styles like
platform sandals
and
leather dresses
," says Sciacca. Plus, take advantage of another bonus of shopping resale and find the original throwback pieces that are about to make a big comeback. "There are great under-the-radar finds hiding in the sale section," says Sciacca. "Like the cat-eye — it's a classic silhouette, but these have a sporty element to them that nods to streetwear, and a Matrix/sci-fi feel that is getting mixed with classic tailoring a lot right now. Shirt dresses are another ever-classic you can find on sale, but maybe what changes over time is the hemline or a cinched waist or a bubble hem like this one, which we're seeing come back as a trend again." 
Authenticity Tip: All ready-to-wear produced by Louis Vuitton is made in France and Italy. The one exception to this is employee uniforms, denoted by "UNIFORMES" on the brand tag. All recent ready-to-wear pieces should have a code printed onto the interior care tag that provides quite a bit of information. This code will represent that the piece is from a ready-to-wear collection, the gender category, the collection year, and the collection season. For example, 'RM181' would denote a ready-to-wear, Men's piece from Spring/Summer 2018.
All items are pre-owned and consigned to The RealReal. Trademarks are owned by their respective brand owners. No brand owner endorses or sponsors this ad or has any association and/or affiliation with The RealReal.
Please note: Brand standards, logos and other identifying features may have changed since the time of publication.