How to Spot a Real Hermès Watch
Face it: a watch is so much more sophisticated than your smartphone. A quick glance and you're on time for your appointment sans the useless Instagram rabbit hole — that's smart. Even more so when the watch in question is Hermès. The storied French luxury house may be known for its leather goods — like the Birkin, Kelly and Constance bags — but in fact those pieces and the maison's watches can both be traced back to its origins as a saddlery. With its focus on craftsmanship and leather goods, it makes sense that the first Hermès watch straps were created in the early 1900s. In 1978 Hermès took the next logical step and introduced its watchmaking division, La Montre Hermès, headquartered in the town of Biel/Bienne, right in the middle of Swiss watchmaking country. Since then, Hermès has designed a chic array of refined, equestrian-inspired timepieces, right up to this year's launch of the latest style: the stirrup-shaped Galop d'Hermès.
Unfortunately, as with most things worth investing in, when it comes to Hermès watches you need to be aware of counterfeits. With a BFA in Metalsmithing and Jewelry Design and a Graduate Gemology degree from GIA, our Los Angeles Fine Jewelry & Watches Valuation Manager Lauren Hunt knows her way around the finer points of luxury jewelry and watch authenticity. We asked her for the lowdown on how to suss out a true Hermès timepiece, focusing on three popular styles: the Cape Cod, Heure H and Arceau. Read on for her tips.
Hermès Watch Brand Markings
Font and logo verification is one of the cornerstone of authentication. In 1945, Hermès adopted the Caleche logo, featuring a horse-drawn carriage design by Alfred de Dreux. It is often found on Hermès watches as a part of the Ex-libris emblem seen on Hermès watch case backs. The Ex-libris logo should be expertly designed, detailed, clean and have nice relief. If it shows poor proportions, any double stamping or looks laser-engraved rather than cast into the case back, those are red flags. When we inspect the crown on Hermès timepieces, we expect to see uniformity in the fluted pattern present and consistency in the font and proportions of the 'H' when it is present on the crown. Hermès watches should always exhibit clean, uniform craftsmanship with perfectly fitting components.
Hermès Watch Leather Stitching
All Hermès watches are constructed in Switzerland, including the leather bands which are always saddle stitched by hand. This allows artisans to control the tension, resulting in less thread breakage, and is much more stable than machine stitching. If you see stitching with stronger tension that is too uniform, that can be a giveaway that it was machine-stitched and not done by hand.
Hermès Watch Metals
The next thing we look for is the construction of the metal components, including the watch case and the buckle. There are a few select models created with 18k gold, in which case we would expect to see French or Swiss metal purity stamping and maker's marks. Stainless steel models are surgical grade steel to give it a bright white finish. Stainless steel will be plated with 18k yellow gold or rose gold, or PVD coating (the blackened finish). Hermès plating is done in such a way that it should not wear off quickly — it is expertly done to ensure longevity.
Authenticating The Hermès Heure H
Instantly identifiable as Hermès, the Heure H comes in various materials, sizes, and now even with enamel for a pop of color. Designed by Philippe Mouquet in 1996, the Heure H has become an iconic design for the fashion house. When authenticating an Heure H, first we verify the watch case size. Enamel versions are available in 21mm and 26mm, while the stainless steel/palladium or steel/gold plated models come in 17.5mm, 21mm, 26mm and 30.5mm case sizes. Sword or baton hour markers are traditionally used in the Heure H, elevating the elegance of the watch. Most current models feature quartz movements, however automatic movement can be presently found in the 26mm case size. Diamond hour markers are available, and Heure H dials may be embellished with mother of pearl, lacquer, guilloche enamel, or stamped steel.
Hermès Heure H Watch | 18K Hermès Heure H Watch | Diamond Hermès Heure H Watch
Authenticating The Hermès Cape Cod
Designed in 1991 using Hermès' iconic Chaîne d'ancre motif, the Cape Cod nods to the elegance of the house's codes as well as the American East Coast. It has evolved greatly over its 26 years on the market, all the while keeping the same case shape. In 1998, then-creative director Martin Margiela introduced the "Double Tour" option for watch straps and bracelets, adding a twist to the already classic design of the Cape Cod.
Hermès Cape Cod Watch | 18K Hermès Cape Cod Watch | Hermès Cape Cod Watch
The traditional Cape Cod presently comes in 23mm, 29mm and 33mm case sizes, while the Tonneau version is available in 26.8mm by 24mm. Cape Cod watches currently come in steel, PVD-coated steel and 18k gold, and of course, you can choose yours with a double tour strap, single tour strap, or a bracelet. The hour and minute indicators on the Cape Cod are stick markers, which speaks to its clean design. The most common dials on Cape Cod watches are opaline silver plated or mother of pearl. If you look closely at the number eight on the dial, you'll see that its clever design is in the shape of the Chaîne d'ancre.
Authenticating The Hermès Arceau
Originally launched in 1978, the Arceau is recognizable for its round case and italicized numbers. Arceau translates to "hoop" in English and, like the newly launched Galop d'Hermès, was influenced by the shape of a stirrup. The Arceau has come with various complications and case sizes over the years. Presently, it is available with a power reserve complication and a moon phase complication, and in a skeleton model (or squelette in French — a design where internal components are visible), a chronograph model, an automatic movement, and a quartz movement, to name just a few of the options. Case sizes include 28mm, 36mm, 38mm, 40mm, 41mm and 43mm and dials may be set in stainless steel and 18k gold.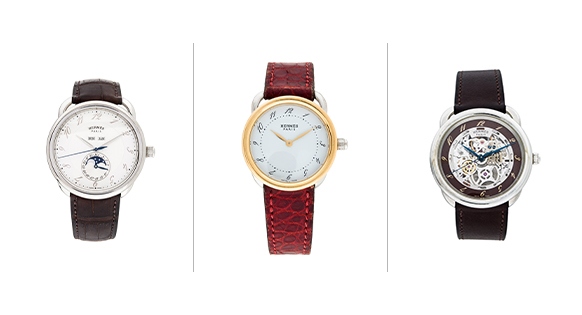 Hermès Arceau Grande Lune Watch | Hermès Arceau Watch | Hermès Arceau Squelette Watch
Ready to ditch your smartphone for an Hermès timepiece? Shop our expert-approved selection here. 
All items are pre-owned and consigned to The RealReal. Trademarks are owned by their respective brand owners. No brand owner endorses or sponsors this ad or has any association and/or affiliation with The RealReal.
Please note: Brand standards, logos and other identifying features may have changed since the time of publication.