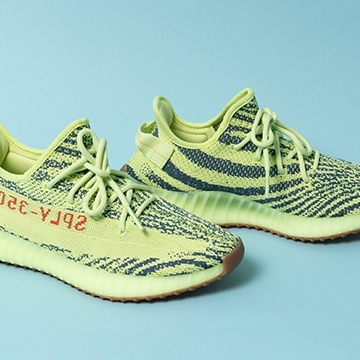 How to Spot Real Yeezys
When it comes to Yeezys, one thing's for sure: the hype is real. In a world where sneakers are a status symbol and everyone (and their bot) is vying for the latest release, copping a statement shoe like the Yeezy x Adidas Boost 350 V2 can truly be a struggle. Arguably the most in-demand of celebrity-designed sneakers, footwear from the ultimate Kanye West collab is produced in limited quantities (only 40,000 per drop!) and sells out within 60 seconds. Whether you love them for the dad shoe vibes, for the now-iconic design or simply because it's Kanye, your chances of scoring a fresh pair of Boost 350 V2s are slim at best.
Luckily, the resale market can save the day for situations such as this, but when you don't purchase your coveted Yeezys directly from the manufacturer, how can you be sure that you're rocking the real deal? Nhu Duong, Authentication Manager and our resident streetwear expert, dishes on the deets to help out sneakerheads everywhere.
Yeezy x Adidas Boost 350 V2 Materials

The Boost 350 V2's upper is made of "Primeknit," Adidas' proprietary breathable fabric that allows for flexibility and support throughout the entire shoe. The Primeknit pattern is the first place to start inspecting for signs of inauthenticity. Pay close attention to the details of the letters and numbers on the sides, particularly in the SPLY-350 text. The curve in the "S" and the length of the "3" are great starting points. On some counterfeits, you will see a longer slope in the "S," and on authentic pairs, the "3" should feature a shorter top curve and a longer bottom curve. Inauthentic 350 V2s will also often feature a printed design rather than a woven pattern.

At the shoe's midsole, every Yeezy x Adidas Boost sneaker is outfitted with a special foam material made up of tiny circular capsules that efficiently release energy and provide extra cushioning. "Genuine Boost material has a bubbly structure with a rough texture," explains Duong. "Fakes generally have more of a smooth or slippery texture." It should spring back when pressed and should not be overly firm or plasticky. Counterfeit sneakers may also lack the repeating circles that should be organized in even, parallel lines. Also note the rubber ribbing on Yeezy soles, which should have rounded tips as opposed to flat edges seen on fakes.
Yeezy x Adidas Boost 350 V2 Construction

On the Boost 350's upper and counter, you should be able to spot a single, unusually stitched seam joining the Primeknit material. "The stitch should be tight, neat and even, and should run from under the tip of the toe to the top of the tongue," says Duong. The shape of the stitches should alternate, X, square, X, square, a cross between a whipstitch and a cross stitch. "If you see excess glue residue where the outsole meets the upper, this indicates poor construction. Some residue is normal, but too much presence is a red flag," says Duong. The stitch also happens to be UV responsive, so if you own a black light, shine it on the shoe and see if the stitching lights up.
All original 350s will feature a heavy duty pull tab at the counter. "The quality of the stitching is very important," explains Duong. "There should be no loose ends and there should be a stitch down the center that is slightly thicker than the rest of the weave." On the Semi-Frozen Yellow Yebras, pictured here, the center top stitch should be orange.
Yeezy x Adidas Boost 350 V2 Brand Identifiers

On the interior lining of each Yeezy Boost, you'll find a label that shows the size, gender and a 13-digit serial code comprising letters and numbers. "Each Boost shoe is serialized," says Duong. "Often, counterfeits will duplicate the serial code on both the right and left shoe, but even within a single pair, each shoe should have a different number. A quick way to check is to look at the last three digits of each serial code and see if they match. If they do, it definitely could indicate that they're not authentic." Note that real Yeezys are made in China, but fakes will often list Turkey, Korea or Vietnam as their country of origin.

All 350s also have removable insoles. When inspecting your Yeezys, remove the insoles to inspect several key features. The stamped adidas logo on the bottom of the insole should be deep and well defined.  There will also be a style code and a sizing printed on the edge. These vary between versions and colorways but note that fake pairs often have cramped spacing between the letters and dashes connecting them. Look closely at the insole of the shoe with the sock liner out as well. Here you may see other indications of poor construction if your Yeezys are inauthentic.
Counterfeiters will often try to fool customers by going above and beyond, including extra freebies or certificates. Fake Yeezys are often accompanied by matching socks or Yeezy shopping bags, neither of which are ever provided with authentic sneakers.
All items are pre-owned and consigned to The RealReal. Trademarks are owned by their respective brand owners. No brand owner endorses or sponsors this ad or has any association and/or affiliation with The RealReal.
Please note: Brand standards, logos and other identifying features may have changed since the time of publication.