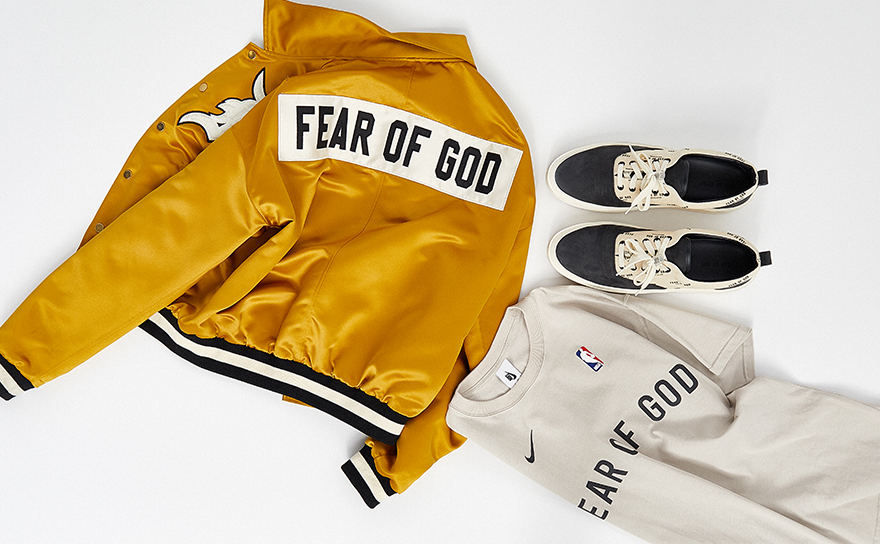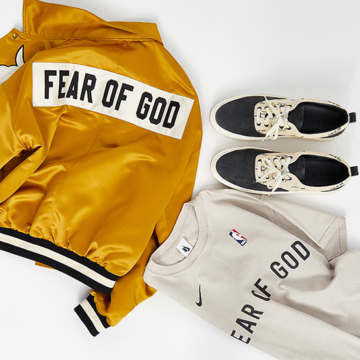 Fear of God vs. Faux: How to Spot the Real Deal
Even if you're not a dedicated follower of streetwear, chances are you know Fear Of God. The fact that a label most commonly known for hoodies, jeans and sneakers transcended the streetwear realm is by design. Baked into the very fabric of Fear Of God is founder and designer Jerry Lorenzo's belief that it's not just the future of streetwear, but the future of American luxury fashion.
"Fear Of God has always pushed the envelope on what streetwear is and what it can be," says The RealReal Sneaker & Streetwear Valuation Manager Carlos Santos. "While most designers were printing loud logos on T-shirts, Jerry Lorenzo and his team traveled across the globe hunting for the best fabrics they could find. From the campaigns they produce and the materials they use to the way they sample products, they pour so much care into each product. And it shows."
Fear Of God launched in February 2013, though it had been in the works for two years before it debuted. "During this time, Lorenzo was working in Los Angeles as a consultant for Kanye West, and members of the surrounding G.O.O.D. Music circle (Big Sean, Don C, Virgil Abloh, etc.) began to wear Lorenzo's designs," says Santos. "But Fear Of God really started to gain traction with the third collection. Lorenzo refused to follow a standard fashion calendar and instead opted to drop collections as he saw fit. He designed the buzzy Yeezus Tour merch that became ubiquitous, and Fear Of God really began to stand out as Lorenzo moved beyond screen-printing graphics onto blank T-shirts."
Fear Of God's rising reputation as a luxury brand has since led to a number of collaborations — Nike, Vans, Ermenegildo Zegna — and will soon culminate in a long-term partnership with adidas. "With Nike, Lorenzo created an entirely new silhouette that allowed for more balance and stability on the court," says Santos. "I think his adidas collaboration promises to be even more ground-breaking." But with so much hype comes the unfortunate reality of counterfeits, and Santos has seen his fair share of them. If you've got a coveted Fear Of God Collection jacket or an ultra-rare pair of Nike Fear Of God sneakers, are you sure you've got the real deal? Read on as Santos explains how to authenticate your Fear Of God pieces.
Fear of God Collection: Real Is in the Details
Fear Of God's main line, Collection, has released seven seasons to date, and when it comes to authentication, it's all about the quality. "Fear Of God Collection pieces will often be made in Italy or in the United States, with materials sourced from countries like Japan," says Santos. "The level of quality can be felt in the weight of the denim and seen in the clean, uniform stitching on each garment. Even the detailing on buttons and zippers can help us authenticate Fear Of God."
Bomber jackets, hoodies, flannel shirts and jeans abound in Fear Of God's Fifth Collection. "Fifth Collection pieces, like the bomber jacket seen here, should show the polished touches of a luxury brand. Counterfeit bomber jackets will often have loose letters that are not properly cut, a loose mesh at the interior and Cobrax snaps that are too light or improperly branded. Fifth Collection garments should also feature a brand tag at the neck labelled Fear Of God Fifth Collection 2017. The F should have an elongated leg, the R should have an extended, curved leg, and there should be a small serif visible on the G. This logo remained the same for the first five collections, though the Sixth Collection featured a new, sans serif logo that has continued to the recently released Seventh Collection."
The interior care tag is the next place to inspect for authenticity. "This care tag should be silky and shiny, with a Fear Of God logo identical to the one featured on the neck tag. The interior tag should also list the size and feature capitalized, evenly centered letters. Stitching should be neat throughout, and the snap closures should have some weight to them, locking tightly in place when fastened."
Fear Of God sneakers like the 101 and BBall models are incredibly coveted — and regularly counterfeited. "Fear Of God's most counterfeited items are arguably from their Sixth Collection, which dropped in Fall/Winter 2018," says Santos. "On pieces like the 101 sneakers, the logo on the heel will again feature particular F's, R's and G's that should match the clothing brand tag logo. The stitching on authentic Fear Of God sneakers should cleanly and consistently follow the lines of the sneakers. Counterfeit Fear Of God sneakers will often feature stitching that's too thin or messy."
With the brand's BBall sneakers, check the heel again for the font, and use all of your senses to sniff out counterfeits. "Authentic Fear Of God BBall sneakers should be made of genuine Italian leather," notes Santos. "Counterfeit BBall sneakers will often have a pungent glue-like smell to them, and will feature leather that is of lesser quality."
Fear Of God Essentials: Counterfeits Can't Nail Branding
Fear Of God Essentials Sweatshirt
Essentials is Fear Of God's diffusion line, though it went by a different name when it first launched in 2017. "Originally branded as FOG and sold exclusively at PacSun, the name eventually changed to FOG Essentials and then to just Essentials," notes Santos. "Despite being a diffusion line, Essentials is still held to a high standard when it comes to quality. These leisure pieces are often made in Vietnam or China, with clothing typically made from cotton or cotton blends." 
Like the diffusion line's name, the Essentials branding has shifted over time. "Brand tags from the original FOG line should feature the brand logo and list the collection number and years produced (example: 2016-2017)," explains Santos. "More recent Essentials garments, like the sweatshirt seen above, should feature a rubberized Essentials logo on the back of the garment. Counterfeiters will often create rubberized logos with the wrong font, or use a stiffer plastic with less bend. The stitching should be neat, straight and uniform. The Essentials font on the tag should not be too bold or thick. Often, Essentials jackets, hoodies and sweatpants will also have screen-printed branding on the wrist as well as the ankle."
When authenticating an item like an Essentials sweatshirt, check the interior brand tag for that same Collection logo — specifically the F's elongated leg, the R's extended, curved leg and the G's small serif. "The interior size tag should be offset on its own rubberized tag to the left. The same rule of thickness applies to the lettering on this tag as well."
Nike Fear Of God & More Collaborations: Text Helps Tell Real From Faux
Fear Of God has partnered with a host of brands, from Nike and Vans to New Era and Ermenegildo Zegna, though their most popular collaborations have arguably been the Nike and Vans releases. "In total there were three Nike Fear Of God collections throughout the two-year period when the brands collaborated," says Santos. "In addition to clothing, they produced five original sneaker models with 22 colorways in total. One thing remained the same on each pair: a pale blue square Air unit at the sole, created specifically for Fear Of God."
This special Air unit should be the first place you look when authenticating Nike Fear Of God sneakers. "On authentic pairs, the Air bubble should be a light blue," says Santos. "Faux pairs will often be clear or a darker blue. This bubble should also be fairly boxy and the corners should not be too rounded."
Flip to the sneaker's heel and make sure to inspect the Fear Of God branding. "The font on the sneaker should be sans serif, neatly raised and spaced. Counterfeit versions often include a logo that's too tall and not wide enough. The O will often look like a rectangle on faux pairs."
When it comes to clothing, Nike Fear Of God pieces will often be made in China and uphold the same Nike quality found on all of their products. "There are a few key details to look for when authenticating Nike Fear Of God clothing," says Santos. "As seen on the above T-shirt, any exterior tag present should say Air Fear Of God with respective sans serif and script logos. The interior neck tag should feature the Nike logo, with easily legible size and country of origin information below. On faux versions, the tag will usually be too long with text that is unevenly spaced. The printing quality on counterfeit T-shirts will also be noticeably poor or uneven."
Authentic Fear Of God Vans were everywhere when they first launched in 2017, and have been counterfeited ever since. "On genuine pairs, there should be a FOG tag at the top of the tongue's interior side," notes Santos. "The tag should read Collection Two 2016-2017. The text should not be sloppy, and the tongue's color should be a very faint tan color. Most faux pairs are white or slightly yellowish."
While Fear Of God only collaborated with Converse once, it's a pair that has sentimental value to the designer. "Lorenzo took to social media to explain the collaboration's origin," says Santos. "Long story short, he wore this shoe as a kid and found the same pair while thrifting in Japan as an adult. He sent it to Converse and collaborated on a new and improved version, while keeping the same '80s print. When checking these shoes for authenticity, make sure any text featured throughout is crisp and legible; counterfeit versions will often have text that is too bold. Genuine pairs should be made of a durable cotton material with a bright, uniform design throughout. Faux pairs will often be dull in color and lack structure overall."