How To Spot Real Comme des Garçons PLAY
A sign. A symbol. A feeling. This is the mantra of Comme des Garçons PLAY, the diffusion line instantly recognizable by its striking "peeping heart" logo. Much like the main Comme des Garçons brand, PLAY has had a cult following since it was established in 2002. The brand has achieved a certain level of popularity, though arguably it feels like it's still looming under the radar. This may have something to do with founder and designer Rei Kawakubo's public persona. Maintaining an air of mystery for many years, she often evades the press. It was only recently revealed how Comme des Garçons got its name — but it's significant to note that Kawakubo herself did not divulge the secret. 
Instead of expounding on the intricacies of her work, Kawakubo lets her designs speak for themselves. Her early Comme des Garçons pieces "gave comfort to the wearer and discomfort to the beholder." For PLAY, comfort continues to be key — Kawakubo boils down her avant-garde aesthetic into luxurious everyday essentials like T-shirts, sweaters, button-ups and sneakers. 
While that coveted, ever-staring logo is quite literally the "heart" of the brand, its design in fact preceded the Comme des Garçons PLAY line. Artist Filip Pagowski envisioned the "peeping heart" logo for another Comme des Garçons project, but it didn't make the cut. The heart faded into obscurity until PLAY came into existence. According to Pagowski, it "[made] bigger waves as a logo for the PLAY line." 
And make waves it did. The heart has become so high-profile that counterfeiters have unfortunately capitalized on its success. So how do you weed out the fakes? The RealReal's Senior Sneaker & Streetwear Valuation Manager Sean Conway has expert intel on authenticating some of the most commonly counterfeited Comme des Garçons PLAY pieces — T-shirts, sweaters and Converse sneakers. Read on for his tips on spotting the real thing.
Real Comme des Garçons PLAY: T-Shirts & Sweaters
If you're inspecting a Comme des Garçons PLAY shirt or sweater with an embroidered heart logo, start by checking the heart's overall shape. "The hearts on counterfeits will often have some irregularities, such as a heart that's either too curved or not curved enough," explains Conway. "The top of the heart should not be a pointed 'V' shape. Authentic heart logos should have a rounded curve." The heart comes in many different colorways, from different shades of red to gold, pink and yellow, among others. "Check the shade and saturation to ensure you are looking at an authentic item," says Conway. "And if your piece has a double heart, make sure that they are perfectly symmetrical, stitches and all. If not, you are most likely looking at a faux item." 
The stitching is also an important factor. "Counterfeits often have thin stitches," adds Conway, "while the stitching on authentic Comme des Garçons PLAY shirts and sweaters will be of a heavier weight. The heart's black pupils should also be stitched as opposed to printed or painted on, and that stitching should be visible on authentic pieces."
Flip a Comme des Garçons shirt or sweater inside out and you should be able to see the heart logo's interior stitching. "The stitching at the interior may be slightly imperfect or irregular, but it should have a clean finish in general," notes Conway. "There should not be excess stitching, or thick stitches, at the interior."
Pay close attention to the brand tag on Comme des Garçons PLAY pieces. "The tag should not be too shiny, and actually should be almost matte," notes Conway. "When it comes to the font, the bottom of the P and Y in PLAY should fall directly above the Os in Comme des Garçons."
There should also be two interior fabric tags on authentic Comme des Garçons pieces, commonly found at the side seam. "These should say 'Made in Japan,'" says Conway. "The opposite side of the tag (not pictured here) will also include an alphanumeric code, which indicates the season and year the item was produced. For example, AD2017 translates to Autumn (Fall/Winter) 2017. A lot of counterfeits will use more recent dates, so make sure to cross-reference the condition and age of the item with the tag."
The material of the fabric tags themselves is also something to consider. "The material of the fabric tag should differ slightly from the material of the brand tag," notes Conway. "They should have a bit more weight to them and a glossier finish, but not be too shiny."
Real Comme des Garçons PLAY: The Converse Collaboration
When inspecting a pair of Comme des Garçons PLAY Converse sneakers for authenticity, first take a peek at the interior tag. "Comme des Garçons PLAY does not create Converse sneakers in half sizes, so double check that your pair is a whole size in US (MEN'S and WO'S) and UK sizing," says Conway. "The text on authentic pairs should be thin, clean and legible. Counterfeit pairs often include text that is too bold."
"There should also be two bold, black lines at the top and bottom of the tag," notes Conway. "On authentic pairs, these should be perfectly centered." The heart logo is another small but crucial detail. "The black pupils should be touching the red heart at both top and bottom on genuine pairs."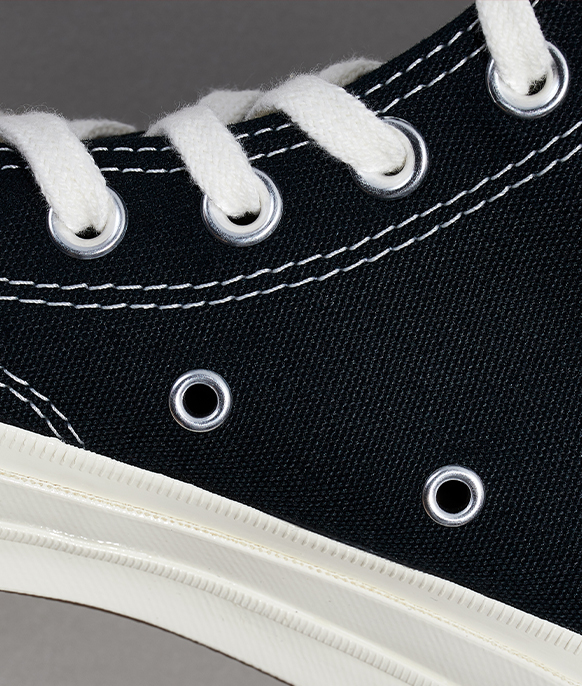 At the sneakers' exterior, you'll find two metal eyelets at the inner sides. "Another way to check authenticity is to measure the distance between the two holes," says Conway. "The distance between them should not be too small, and should be a minimum of 1.5 inches on authentic pairs."
"On authentic pairs of Comme des Garçons PLAY Converse sneakers, the stitching below the laces should almost meet the top of the printed heart logo, with little space in between," says Conway. "Counterfeiters will often get this detail wrong and leave ample space between the stitching and heart logo. Also note the heart's eyes. The black pupil should be imperfect on genuine Comme des Garçons PLAY Converse sneakers, while inauthentic pairs will feature rounded black pupils that almost resemble a perfect circle." Also make sure to check the stitching at the shoes' heels. "Check for clean stitching. If you see loose or messy stitching, you could be looking at a counterfeit pair."
All items are pre-owned and consigned to The RealReal. Trademarks are owned by their respective brand owners. No brand owner endorses or sponsors this ad or has any association and/or affiliation with The RealReal.
Please note: Brand standards, logos and other identifying features may have changed since the time of publication.