The Great Elissa Santisi
Former Vogue editor Elissa Santisi talks Fall 2019 and the thrill of shopping consignment.
She has been an editor at Vogue and Harper's Bazaar. She works with top fashion photographers like Raymond Meier, Cass Bird and Dan Mortensen, styling everyone from Kate Moss to Melissa McCarthy. And earlier this summer, Elissa Santisi did a deep dive into The RealReal and selected her favorite pieces for Fall 2019. Indeed, Fall 2019 is Elissa's moment. That '70s girl you saw walking the runway at Chloé, Celine and Gucci? Elissa has been dressing that way for years. Here, the famously self-effacing fashion-insider answers some of our most burning questions.
Describe your style in 3 words.
Tailored, boyish, glam.
From TRR shoot with photographer Raymond Meier. Styled by Elissa Santisi. | Marc Jacobs Poncho, Calvin Klein 205W39NYC Turtleneck, Celine Vintage Wrap Skirt, Chloé Knee-High Boots, Celine Crossbody Bag
If you were the heroine of a movie, which movie would it be?
I'm a cross between Eric Rohmer's Love In The Afternoon (1972) and Goodbye Columbus (1969). 
What are your go-to brands or designers?
Phoebe Philo
Prada— all seasons, but specifically Spring 1996
Balenciaga Resort 2008
Veronique Branquinho — her debut collection in 1998
3 pieces in your closet you never tire of?
APC jeans, new standard
Dior Homme trench, circa Hedi Slimane
Marni navy shearling cape
What was the inspiration for your TRR shoot?
What I wear or what I aspire to wear, which is a kind of classic '70s glam day look but not too bourgeois. It's about a trench, small velvet blazer, cape for drama, but with corduroy pants and sneakers. Stacked heel boot. Something glam for night, but more laid-back and not too flashy. Also, I like a little color, but off-colors like pale yellow, burgundy, rust, or green.
Photographer: Raymond Meier Stylist: Elissa Santisi. | Burberry Trench Coat, Saint Laurent Velvet Blazer, Chloé Turtleneck, Gucci Silk Scarf, Celine Belt, Céline Boots, Céline Medium Big Bag
What look or trend were you tempted by but ultimately regretted buying into?
The big shoulder.
After more than three decades in fashion, how do you keep yourself excited and engaged?
For me, fashion is a life, not a job. It's always been a love of mine. I'm still surprised and moved by fashion shows. When I find a personal element, a version of myself that moves the needle, it's exciting. I'm constantly looking for references and images that inspire me. Researching women from the past with strong personal style is always inspiring. 
Did you have fashion mentors? Style icons? Who's in your fashion hall of fame?
I have a lot of fashion icons, but my most important mentors were my two sisters. I am the youngest of three, so growing up I watched what my sisters wore, how they decorated their rooms, who they thought was cool, how they wore their hair, what their girlfriends looked like. We all loved clothes and pored over magazines, made clothes and shopped at thrift stores. It all started with that. 
What's your work (on-set) uniform?
APC jeans or, recently, Jacquemus off-white jeans, Céline crew-neck sweater and a retro-looking sneaker. 
What's your fashion week uniform?
I don't dress up and parade. I usually wear something tailored, always pants, jacket, sandals or boots with a heel, something a bit glam in the winter like a pale shearling coat. Nothing flowy or loud.
What is your off-duty look?
Usually a sweater and vintage Levi's.  But, also in summer, I like a more bohemian vibe. I have a Céline long-sleeve knit dress that I over-wear. It has a living-in-LA Joni Mitchell-in-the-canyon vibe. Also, a denim maxi skirt from Maryam Nassir Zadeh, which I love.
What's the best thing about buying consignment?
Finding the piece you let get away. Also, being able to afford something that you would never think of buying in a store. I recently found and bought a vintage Hèrmes bag, which is a forever classic. 
What's your most exciting TRR find?
Loro Piana cashmere cape.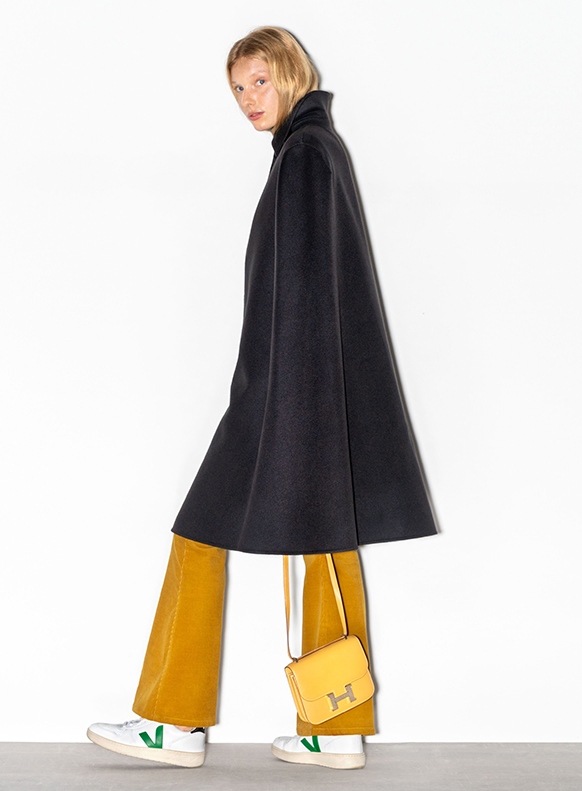 Photographer: Raymond Meier Stylist: Elissa Santisi. | Miu Miu Wool Cape, The Row Corduroy Pants, Veja Sneakers, Hermès Mini Constance 18
What pieces are you looking for now?
 For jewelry, a Cartier thin gold chain necklace and Solange Azagury rings. Prada polo tops, recent Celine and vintage Céline, Chloé pants from the Phoebe Philo era.
Shop your own signature look at The RealReal.