The Unusual Story Behind Knoll Furniture (& How to Tell if It's Real)
These days when you think of office furniture, you might imagine sterile desks and bland function-over-form task chairs. But when it comes to Florence Knoll, office furniture has a good name.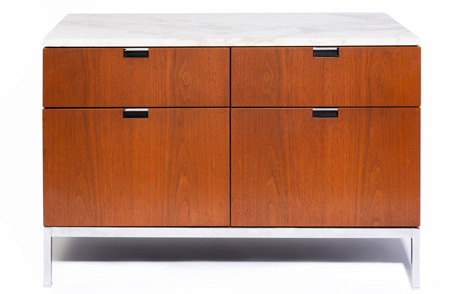 Known for creating the kind of mid-century pieces you might now find on the set of Mad Men to recreate an era when workplace decor meant rosewood and marble credenzas, tufted leather benches and chic glass and chrome tables, her sleek pieces are a cut above. In fact, they're so stylish, timeless and well made, that originals are still highly coveted, licensed versions are still produced, and of course, they're widely replicated.
But if Knoll was instrumental in elevating office furniture to the level of art, she was also unique in the design world for another reason: she was a woman. And though she may not have had a feminist agenda, that doesn't mean she didn't have an impact on how women are perceived in the male-dominated design industry. Knoll became a full partner in the company founded by her husband Hans Knoll, and when he passed away in 1955, "she basically ran the show," explains Fine Art & Home Curator Brittany Gersh. "It was rare at the time for a woman to be running a business. The furniture designers of that era were old white men, so she was the outlier. It's similar to the way Ray Eames wasn't even thought of as a real partner until much later, years after her death."
The Barcelona Chair: Designed by Mies VanDer Rohe, produced by Knoll
Knoll honed her design chops at the Illinois Institute of Technology where she studied under Mies Van Der Rohe and the Cranbrook Academy of Art where she studied with Eliel and Eero Saarinen and Charles and Ray Eames. While the Eameses moved to California, Knoll moved to New York where she met her future husband, Hans Knoll. And it was when they got together that Knoll's genius for interior decorating and furniture design began to propel the company into its long-held position as one of the foremost, forward-thinking furniture design companies in the world. "Office furniture wasn't this pretty before," says Gersh. "Their pieces elevated the office atmosphere, which is indicative of office culture at the time. Business, rather than the individual, was everything at that point. People trusted businesses more than they do today and their reputations were reflected through these high-end pieces with nice materials and construction. Sturdy furniture was parallel to a sturdy company."
Knoll wasn't just a designer herself. Through Knoll Associates, she collaborated with other influential mid-century designers she knew from her time at Cranbrook and the Illinois Institute of Technology to produce their iconic pieces — designs like Harry Bertoia's wire chairs, Mies Van Der Rohe's Barcelona chair and Eero Saarinen's Pedestal table and chairs (aka Tulip chairs). As respect for Knoll's design empire grew, so did the professionalization of the interior design industry and women's place in it.
"Knoll today is still one of the most important furniture manufacturers. They're still producing the most iconic designs even though Florence Knoll is no longer around. There are a lot of other manufacturers who are trying to create things that look like Knoll, and that they even call Knoll, but pieces actually produced by Knoll are the standard. Everyone else is just trying to knock them off." With this in mind, we asked Gersh for her expert advice on how to tell authentic Knoll from replica pieces. Read on for her tips.
Construction
"These corners are a good example of what sets Knoll apart," notes Gersh. "When you're looking at a work of art, they say you should look at the hands and feet as the tell of a good artist, and for me the joints are the tell of a good piece of furniture. It's a more difficult way of manufacturing a piece, so many try to produce them in the most efficient way rather than doing something like this that is better construction and makes a sturdier joint." Another design element that showcases the care taken to produce high-quality pieces is in the wood used in Knoll credenzas. "They take every little detail into account," Gersh says, "including making sure the wood grain matches to create a seamless look."
Materials and Hardware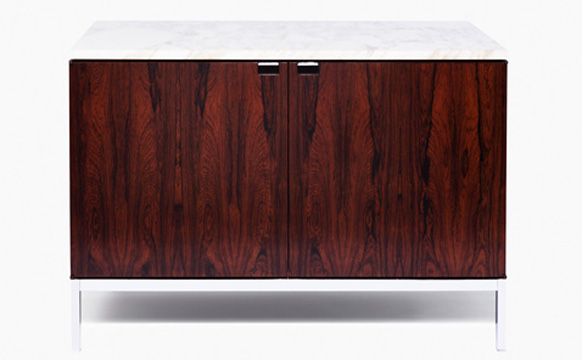 Florence Knoll Teak & Marble Credenza, $2,610
According to Gersh, "You can tell a piece is well-made by touching it. I associate high-polish chrome finish with Knoll furniture. So that's a key element in her benches, these cabinets and other pieces specific to her design, and pieces [by other designers] like the Barcelona chair. These pieces are teak, but Florence Knoll also produced similar ones in rosewood — both really rich woods that hold up well, but are also very pretty. These woods were commonly used in mid-century furniture, but it was something they took into account when thinking about aesthetics. They're clean, geometric pieces and the grain of the wood is the only thing that gives it more of an organic quality."
Brand Markings
The stickers applied to Knoll furniture pieces are a helpful tool in determining the date and authenticity of a particular piece. In the late '40s and early '50s Knoll occupied showrooms on Madison Avenue. After 1961 Knoll's offices were located at 320 Park Ave., and in 1970 they moved to 745 Fifth Ave. "The logo evolved over the years," says Gersh, "so we look to ensure that the logo is correct for the time period of the piece and that the address matches."
Design
"The 1940s kicked off the organic design movement. It was at this time that Saarinen and Eames teamed up and were chosen to design furniture for a MoMA exhibition, which ushered in a new era of design. The Tulip chair was created some years later, but it's still the epitome of organic design — it's even named after a flower. Saarinen wanted to alleviate clutter, an idea which comes out of the 30s when streamlining was the thing. It was a way to hide clutter, but also to mask the complexity of things, making the world feel easier to understand and digest. Eero Saarinen's famous quote about the Tulip chair was that he wanted to 'clear up the slum of legs.'" Looking at the sleek base designed for this purpose is key in determining a Tulip piece's authenticity. "These have a cast aluminum base whereas many replicas have a metal base that's not quite as sturdy," says Gersh. "Because it's cast, originals have one piece of metal whereas knockoffs might have a seam. Also, you would never see screws under the base of an original chair. Originals are also made of fiberglass, whereas more recent reproductions are probably not." Signs of use are another important factor. "Plastic has kind of a patina when it's been used over time," notes Gersh. "These chairs don't look brand new, which they shouldn't; their use is consistent with their age."
Invest in your own iconic Knoll piece. Shop our fully authenticated collection here. 
All items are pre-owned and consigned to The RealReal. Trademarks are owned by their respective brand owners. No brand owner endorses or sponsors this ad or has any association and/or affiliation with The RealReal.
Please note: Brand standards, logos and other identifying features may have changed since the time of publication.