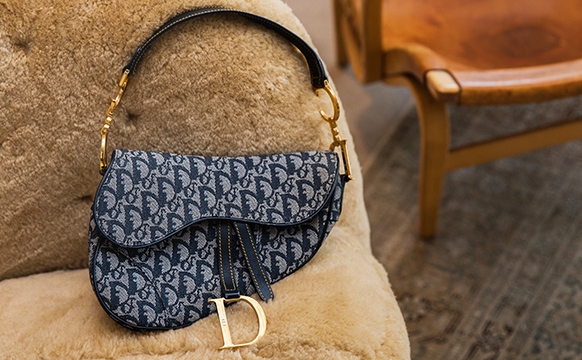 Back in the Saddle: the History Of Dior's Iconic Bag
Before Maria Grazia Chiuri rebooted it, before Dior made it ubiquitous with an all-encompassing Instagram campaign, before the Diorissimo print was rebranded as Oblique, the Dior Saddle bag was birthed on a Parisian runway at the tail end of the '90s.
The year was 1999, to be exact, when John Galliano, Creative Director for the house of Dior, debuted his designs for Spring/Summer 2000. There was no allusion to Y2K, no sartorial angst anticipating the future — instead, we saw Galliano put his quintessentially theatrical spin on the zeitgeist, with influences from hip-hop, '70s silhouettes, 1700s-era undergarments and Western classics all present. A glam lineup of models emerged to Lauryn Hill's "Everything Is Everything" in halter tops, corsets, bias cut dresses, asymmetrical skirts, denim and the iconic Diorissimo logo, which covered everything from knee-high boots to hot pants. But the collection's pièce de résistance, the one that kick-started the logo craze of the aughts? The Saddle bag.
The Saddle Bag's Beginnings

Liz Sennett, Lead Valuation Manager, with a canvas Diorissimo Saddle, a Hardcore Mini Saddle and a crimson Diorissimo Mini, all vintage.
The true inspiration for Dior's equestrian It bag lies somewhere between fact and fiction. "It's said that the Saddle bag was inspired by Helmut Newton's Saddle I, a photograph featuring a model on a bed wearing a saddle and riding boots," notes Liz Sennett, Lead Valuation Manager at our Melrose store. "It was never confirmed by Galliano himself, but Newton's photo perfectly encapsulates Galliano's aesthetic — simultaneously dramatic, romantic and sexualized."
After some initial buzz following its runway debut, the kidney-shaped classic made pop culture history when Sex and the City's Carrie Bradshaw showed up to her second date with Aidan (Season 3, Episode 5), a patterned iteration of the purse tucked under her arm. "This moment first established the Saddle's status," says Sennett. "The following year, 2001, WWD reported Dior's accessories sales were up by at least 60% due to the bag's success. And soon after, heiress Paris Hilton adopted the bag with a white, leather version that she wore non-stop." It would forever be immortalized in the handbag canon.
Erin Brown, Valuation Manager, inspects a Diorissimo Saddle Pochette for the proper materials and brand identifiers.
The Saddle bag became a collectible as new colors, patterns, fabrics and embellishments fanned fashion's flames. "I've seen some of the most notable styles of the Saddle come across my desk," says Erin Brown, Valuation Manager and another one of our handbag experts based in Los Angeles. "Bags featuring the Diorissimo logo are classics, but the floral Girly, the Christian Dior Daily Newsprint, tricolor Rasta, Adiorable and Speedway versions are all extremely coveted."
During the Saddle bag's reign, a few designers vied for their chance to create the top status symbol of the times. "Louis Vuitton had an array of popular bags from the Takashi Murakami and Stephen Sprouse collaborations, and Balenciaga's downtown chic Motocross bag was a contender as well," says Brown. "Even the Lady Dior, which premiered in 1994, had a resurgence during Galliano's time at Dior." Though the Saddle surpassed all others for some, its winning streak was about to temporarily come to an end.
The Saddle Bag Disappears… Then Returns
The ultra-rare floral Dior Trotter Saddle bag from the Girly collection.
As the years passed, the Saddle bag's relevance diminished. The looming recession took its toll on fashion, and by 2007 the Saddle had left Dior's runways. It bags and in-your-face logos were replaced with a taste for less ostentatious luxury. Galliano's controversial behavior led him to exit Dior in 2011, and his successor, Raf Simons, presented a radically different vision for the brand, sans Saddle.  
Simons' three-year tenure at Dior came and went. It appeared that the Saddle bag was gone for good — until 2014, when Beyoncé was spotted with a tie-dyed ponyhair iteration of the bag. A comeback was imminent. Two years later, Vogue claimed that Dior Saddles, Fendi Spy bags and Louis Vuitton Murakamis had risen from the grave. By this time, Maria Grazia Chiuri — Dior's first-ever female Creative Director — had been tasked with restoring the brand to its former must-have glory. Chiuri's strong feminist perspective felt fresh for the atelier, and as logomania began to reach its peak, vintage Dior Saddles were popping up in the fashion consciousness once more, simultaneously flooding the resale market.
For the Fall 2018 collection, Chiuri made a blockbuster decision: to streamline, revamp and ultimately reissue the classic Saddle. Amidst a '60s-inspired wave of plaid power blazers, slogan sweaters, sheer blouses, crocheted dresses and patchworked skirts, the Saddle returned. The 2018 version boasts a slightly larger size and is available in buttery black leather, the new-and-improved Oblique logo canvas and a host of embellished variations.
Authenticating The Saddle, Vintage & New
Sennett measures a canvas Diorissimo Saddle.
As with any design that's brought back from the archives, there are telltale differences between vintage and new, also important in telling real from faux. No one knows this better than our experts.
"When inspecting for authenticity, I'm always looking at the materials of the bag first and foremost," says Sennett. "Is the leather top quality? If it's limited edition, is the pattern correct and correctly placed? Next, I move onto hardware. Are the screws flat head, the zippers branded correctly at the interior?" Signs of counterfeits include shiny, low-quality hardware, an improper serial number (or no serial number at all) and nylon interior linings.
When differentiating between vintage and new, Brown considers every detail to be essential. "The overall process of authenticating new and old Saddles stays the same, but you're paying more attention to the changes," says Brown. "The Diorissimo and Oblique monograms are different, for starters. Chiuri's Oblique pattern features a font that's a little slimmer and defined, while Galliano's is bolder. Conversely, the D accent at the front on Chiuri's Saddle is bolder, with rounded serifs, while the D on a Galliano Saddle has more pointed serifs and an engraving."
Brown inspects the paperwork that accompanies a real floral Dior Trotter Saddle bag from the Girly collection.
If the bag is accompanied by a box, dust bag and paperwork, Brown knows that it does not necessarily guarantee that it's genuine. "When it comes to collateral, I focus on the quality of the packaging materials, as well as proper font and information listed," she says. "I've come across fake collateral with incorrect spellings or incorrect care instructions, which are big red flags. And if the authenticity card is properly filled out, it should help date the product to when it was originally purchased."
Even without key components like a box or dust bag, the Saddle's popularity has kept its resale value rising at an impressive rate. Sennett, who now authenticates at least two per week in our Los Angeles Luxury Consignment Office, confirms that recently the interest in and demand for Saddle bags has skyrocketed. "I've been working in the designer resale business for over eight years, and I remember selling Saddle bags for $100-$200 each!" she muses. "The reissuing of the Saddle bag has affected the original's resale value ten times over."
The Hardcore Mini Saddle, which can feature a print with either a white or black background.
Saddles now resale anywhere from $495 to $3,250, depending on size, color and whether or not they're limited edition or feature the Diorissimo print. "If you've got one hiding in your closet, make sure to take care of it so it retains its value," says Brown. "Always store the Saddle in its proper dust bag, away from sunlight and heat. Stuff them lightly, otherwise overstuffing may result in your bag stretching or losing its shape."
All items are pre-owned and consigned to The RealReal. Trademarks are owned by their respective brand owners. No brand owner endorses or sponsors this ad or has any association and/or affiliation with The RealReal.
Please note: Brand standards, logos and other identifying features may have changed since the time of publication.