TRR Top 5: Hermès Bags With the Best Resale Value
Behind the price tag of an Hermès bag lies painstaking craftsmanship, inimitable allure and designs that have defined the fashion world for decades. The decision to part with your prized bag may not come easily, but with Birkins considered a better investment than gold by some, perhaps it may. If you're thinking of selling, the name of the game is resale value. A newer term that's risen in relevance along with more shoppers buying pre-loved luxury, resale value refers to the percent of original retail price a brand or item sells for — in this case on therealreal.com or in TRR stores. The higher the resale value, the more of your original investment you earn back (in some cases even more than what you paid — hello smart investment!). According to our exclusive data, Hermès ranks fourth overall for brands with the highest resale value on The RealReal. There's more than just French je ne sais quoi behind the numbers, though.
"Hermès is a beacon of exclusivity," says Xavier Hall, The RealReal Retail Expert, Handbags. "You can't walk into an Hermès store and get whatever you want, no matter what your net worth is. Spending a certain number with Hermès unlocks the ability to purchase high-profile styles like the Birkin, Kelly and Constance. The brand also has a limit on the number of bags you can purchase in a year." 
The secondary market opens up endless options and opportunities not only for shoppers, but for sellers. We took a look at the data, based on our 16 million items sold, to find out which bags have the highest resale value and will earn consignors top dollar. Read on as Hall dives into the details about which Hermès bags you should sell now.
5. Hermès Picotin Resale Value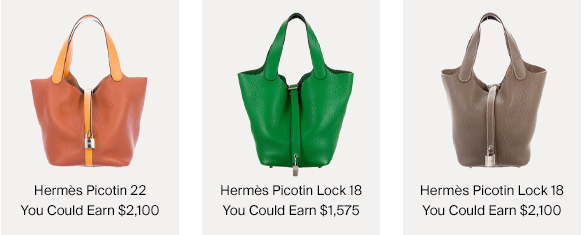 Hermès Picotin 22; Hermès Picotin Lock 18; Hermès Picotin Lock 18
The Resale Stats: Hermès Picotin bags hold an average resale value of 72%.
Why the Picotin is Perfect for Stealth Luxury Lovers: The Picotin, which debuted in 2002, was designed with feed bags and horse troughs in mind, and truly speaks to Hermès' equestrian heritage. With its casual, elegant bucket bag silhouette and subtle padlock, the Picotin is the perfect style for someone who wants that craftsmanship but isn't into the super recognizable Hermès "Holy Trinity" — the Birkin, Kelly and Constance. 
What You Should Sell Now: Because Hermès switches their available bag colors and styles on a regular basis, shoppers are always on the hunt for Picotins in the secondary market. No matter which color and size you're thinking of selling, there's someone out there who wants it.
How to Spot the Real Deal: When authenticating a Picotin, the edge paint should be straight and clean on the handles and at the top of the bag. The feet on an authentic Picotin should also never come off completely; while they can spin, they should not detach.
4. Hermès Evelyne Resale Value
Hermès Evelyne TPM 16; Hermès Evelyne TPM 16; Hermès Evelyne TPM 16
The Resale Stats: Hermès Evelyne bags retain a 78% resale value, on average.
Why the Evelyne is the Ultimate Starter Bag: In 1978 Evelyne Bertrand, head of Hermès' Riding Department, created this style as a catch-all for the grooming tools needed while tending to the horses. Its roomy design inherently makes it the perfect starter style for a shopper looking to purchase their first Hermès bag — meaning there's sure to be a buyer for this versatile crossbody. 
What You Should Sell Now: If you're ready to trade up, now is the time to sell that Evelyne TPM, especially since select TPM 16 styles fetch above-average resale prices. The Noir Clemence with gold hardware and the Rose Extreme Clemence with palladium hardware — both retailing for $1,800 — are particularly wanted by shoppers, and we've seen these re-sell for $3,500 and $3,200, respectively. And in general, the Evelyne TPM 16 in Clemence and Togo leathers are in high demand.
How to Spot the Real Deal: The snap on authentic Hermès Evelyne bags will vary depending on date of production. Some snaps may be blanks, some may include four letters on the female component, and some may read SBH. The male component of the closure should always be attached to the bag, and may either be flat or include radiating lines along the edge. You should never see a brand name or six stars on a snap, as that is a sign of inauthenticity.
3. Hermès Birkin Resale Value
Hermès Togo Birkin 25; Hermès Veau Jonathan Birkin 25; Hermès Togo Birkin 25
The Resale Stats: The uber-coveted Hermès Birkin comes in third place, with an average resale value of 80%.
Which Birkins Are Stealing the Show: As more Birkins enter the secondary market, the iconic style continues to reach new demographics. The hunt for rarer "It" Birkins has also increased, leading shoppers to look for more artistic styles with unique touches. Hermès is known for its leathers, as there is a vast number of them, but when it comes to rarity and the resulting allure, it's all about exotics. Lizard is considered the most luxurious of the bunch by many, but crocodile Birkins are also highly sought-after. One of the most expensive Birkins ever re-sold — a Himalaya Crocodile Birkin with 18k gold hardware encrusted in diamonds — raked in a cool $500,000. Hermès crocodile comes in two forms — Porosus (from Southeast Asia and Australia) and Niloticus (from Africa). Most Hermès clients have a preference towards one or the other. If you're looking for a significant return on your investment, consider selling a lizard or crocodile Birkin.
What You Should Sell Now: All exotics aside, the Birkin 25 is a great bag to sell right now — we've sold 13% more Birkin 25s in 2020 at an average 210% of their original retail price. The heightened demand for this smaller style has resulted in neutral and special colorways doubling in resale value. A gold Birkin in Togo leather with gold hardware recently sold for $21,000. Its standard retail price sits at $9,850. Other popular Birkins in the secondary market include Toile, Vibrato, Verso, Contour and Doblis Suede, in addition to bicolor and tricolor bags.
How to Spot the Real Deal: Birkin bags should feature two signature stamps. One should be a heat stamp featuring the Hermès name, and the other should be a blind stamp, indicating the year the Birkin was created and the artisan who created it. The heat stamp should be printed in metallic foil that matches the bag's hardware, but the blind stamp should be barely visible. Faux versions of a blind stamp may look large or heavy.
2. Hermès Kelly Resale Value
Hermès Kelly Pochette; Hermès Mini Kelly Sellier II 20; Hermès Kelly Retourne 25
The Resale Stats: The iconic Hermès Kelly bag comes in second place, and holds 92% resale value on average.
Why the Kelly Bag Endures: Who could forget the bag's namesake — the classic story of Grace Kelly using the bag to hide her baby bump from the paparazzi? In addition to its legacy, the bag's functionality helps keep it a classic. The Kelly sets itself apart in style and practicality, and the shoulder strap makes all the difference. 
What You Should Sell Now: The Kelly Pochette and the Mini Kelly 20 are the models to sell now. The demand for these have skyrocketed, especially since the handbag market is all about mini styles at the moment. Exotics in these two models are very hard to get, which makes them even more coveted. Sell yours ASAP.
How to Spot the Real Deal: An Hermès Kelly's sangles, the front straps, secure the bag closed and will include metal plaques on either side. On authentic Kelly bags, "Hermès – Paris" should be engraved on the right-side plaque. Vintage styles may have "Paris" below the brand name instead of beside it.
1. Hermès Constance Resale Value
Hermès Alligator Micro Constance 14; Hermès Evercolor Mini Constance 18; Hermès Mini Constance 18
The Stats: First place goes to the Hermès Constance, with an average resale value of 105%.
What Makes the Constance Stand Out: The Constance was the first bag to use a bold H logo for a clasp, and its appeal lies in the smooth, rounded edges and ease of movement afforded by the crossbody strap. The Constance completes the Hermès "Holy Trinity," and is also a favorite for handbag lovers who appreciate hands-free styles.
What You Should Sell Now: The Micro Constance 14 is the most sought-after Constance on the resale market. The Micro Constance is even harder to find than a Mini Kelly, and the rarity of this bag drives demand for any colorway or leather type. I'll never forget the first time I saw an alligator Constance in the Ciel colorway… it was so rare and stunning, and it sold instantly.
How to Spot the Real Deal: The Constance bag preceded the H belt buckle, and the two Hs are noticeably different. The serifs should tell you if you're looking at the real deal. Constance Hs should have serifs extending outwards, whereas H buckle serifs should protrude inwards and outwards.
Start selling and earning for your Hermès bags today.
All items are pre-owned and consigned to The RealReal. Trademarks are owned by their respective brand owners. No brand owner endorses or sponsors this ad or has any association and/or affiliation with The RealReal.
Please note: Brand standards, logos and other identifying features may have changed since the time of publication.