How To Spot A Real Fendi Logo Bag
There's no denying that Fendi is back. From the runways to the streets to our Instagram feeds, it seems like everyone has Fendi fever. And it's not hard to see why: the Italian house's coveted Zucca logo, like any must-have monogram, is both a statement and a neutral in one, the perfect balance to any outfit.
Karl Lagerfeld designed the logo in 1965 as a testament to Fendi's initial claim to fame — Fun Furs. Zucca was initially used to line the interiors of travel trunks, but as its popularity rose it made its way to ready-to-wear and handbags, reaching peak Zucca-mania in the mid-to-late nineties. The bite-size version of the print, Zucchino, was soon to follow.
Last year, Fendi caught on to the logo craze and reintroduced Zucca, now dubbed FF, into its offerings in a big way. And of course, so have counterfeiters. Equip yourself with insider knowledge on how to spot a real Fendi FF logo bag with tips from our expert team.
Fendi Logo Bag Materials & Construction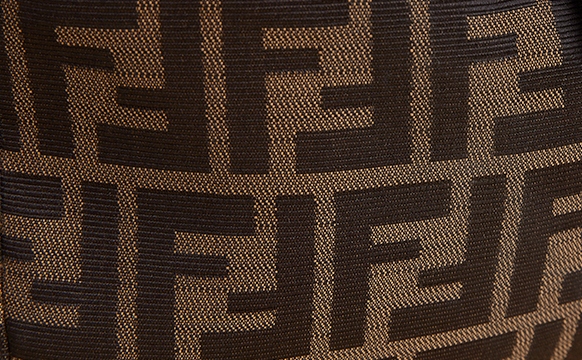 The Zucca print on a 1999-era Fendi shoulder bag.
Fendi bags featuring the iconic Zucca-turned-FF logo are often fabricated in the brand's signature jacquard canvas. The Fendi jacquard material is frequently seen in its traditional tobacco and tan colorway, though over the years new variations have been introduced. When inspecting the jacquard, make sure the weave is tight. Counterfeiters will often use a looser weave, making the FF pattern look almost pixelated. Inauthentic Fendi bags also won't have the same feel as the genuine article.
The canvas on genuine bags should be sturdy, and if there's a Zucca or FF print on the exterior, the bag should not have a printed lining. This is a big giveaway for fakes, and holds true for Louis Vuitton and Gucci logo bags as well.
The trim on real Fendi bags should also be made of genuine leather, and stitching should be even and consistent throughout. Many fakes will include synthetic leather trim. Numerous Baguettes over the years have featured beadwork and embellishments, and for these accents there should be no visible glue or other signs of poor craftsmanship.
Fendi Logo Bag Hardware

A Fendi Zucca shoulder bag, circa 1999.
Fendi's FF clasp should resemble the logo in a more rectangular, elongated way. When featured on a bag, it will usually top a strap that conceals the bag's snap closure. The two arms of the Fs in the middle should be staggered, and never parallel. The snap closure beneath should also be of a square shape on most Fendi bags, and should say FENDI. If an older Fendi bag has a circular snap closure, that's a sign it's inauthentic.

A Fendi Zucca Chef hobo bag, circa 2004.
Most hardware will have logos in numerous places. Clasps on straps and sometimes even rivets will be branded. They should be branded FENDI or FF and be well-designed. If you're inspecting a recent bag, also look for FF zipper pulls on their interior pockets or on bags with a zip closure. These have been included for the last fifteen years.
Fendi Logo Bag Brand Identifiers

The serial code on a Fendi Zucca Chef hobo bag, circa 2004.
On an authentic Fendi bag, the classic FF print should always feature two Fs and they should never touch. Vintage versions of Zucca have inverted Fs that are more square, as opposed to the current rectangular shape. As with most items, you can spot a new or vintage Fendi bag based on the interior label. Vintage bags will have a style number stamped in either metallic foil on an inside pocket or debossed on a leather tab. Leather goods usually include '8BR' within this style and art code.

Tags on a Fendi 1974 Double F bag and a Kan I bag, both circa 2018.
The bag will have different interior branding, depending on when the bag was made. Possible combinations include FF / Fendi /Made In Italy, Fendi Roma or Fendi / Made In Italy on a fabric or leather interior tag.

Beginning in the early 2000s, Fendi began to incorporate holograms with serial numbers in their products. Within the last ten years, Fendi introduced RFID — radio frequency identification — tags to some of their pieces, which encompasses information about the production and origin of the products. This tag also includes a small pouch featuring a chip inside. Counterfeiters have caught onto this as well, but real RFID tags have a chip inside the pouch. Many fake bags will have a pouch without a chip inside it.

A 2018 Fendi Kan I bag.
The new Fendi "Kan" logo, which debuted in the Fall/Winter '17 collection, is a graphic abstraction of the F. The tubular shape of the components reference the 3Baguette style from 2016. The 3Baguette bag displayed 2 Fs that fold on a twist-lock closure. The Fendi "Kan" logo is used on a range of the brand's bags. The encircled F's top arm should be more than double the length of the second arm, and should be upside down when viewing the bag right-side up.

A 2018 Fendi 1974 Double F bag.
Fendi's Stamp patch is a crest logo that's been around since the '70s, but newer styles are featuring it again for the first time since the late '90s. The crest or Stamp patch should be embossed and feature the FF logo in the middle, surrounded by FENDI ROMA ITALY 1925 and a star. One clean line of even stitching should surround the crest, securing it to the bag.
All items are pre-owned and consigned to The RealReal. Trademarks are owned by their respective brand owners. No brand owner endorses or sponsors this ad or has any association and/or affiliation with The RealReal.
Please note: Brand standards, logos and other identifying features may have changed since the time of publication.