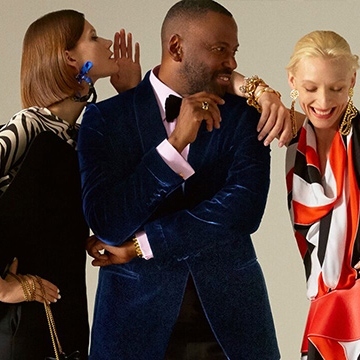 7 Big Takeaways from Our 2019 Resale Report
Who's up and who's down in the world of luxury resale? What are people searching for and which styles are trending? Every year we do a deep dive into our exclusive data to answer these questions and more. And as usual, the answers are eye-opening. From shoppers changing their habits to become more sustainable to the brands who made it into (and fell out of) the top 10 to the unequal value of investment bags, read on for the biggest takeaways from this year's report.
1. Gucci & LV Are Winning The Battle Of The Super Brands

Coming in at #1 and #2 on the list of this year's top 10 most-searched brands, Gucci and Louis Vuitton widened their lead over #3-ranked Chanel by 334% and 227% respectively. Other big moves? Balenciaga made it into the top ten for the first time and Celine dropped from the list. See who else made the top 10, and the brands millennials are fueling to the top.
2. Resale's Rise Could Signal The End Of Fast Fashion
The future could see fast fashion disappear into the rearview mirror while shoppers opt for luxury and luxury resale. Why? While 93% of customers say they regularly shop department stores like Saks Fifth Avenue, Nordstrom and Neiman Marcus, 32% of customers say they shop The RealReal as a replacement for fast fashion. Also, 56% of consignors cite sustainability as a key motivation to consign. Ready to get started yourself?
3. Micro Trends Are The New Macro Trends
The new rule of personal style: anything goes. Seemingly everything is trending at once as people embrace brands and trends from every era to create looks that are uniquely theirs. Just a few of the rising micro trends this year? Mini bags, hair clips and tie-dye.
4. Not All Investment Bags Are Created Equal
Investment bags get their status from their lofty price tags and collective desirability — but both factors can rise or fall, especially in the resale market.  Classics, like the Hermès Kelly for example, tend to retain high value steadily over time. Passion picks, on the other hand, are best bought for love and not money as their resale value declines below average over time (think the Chloé Drew). Curious about how Revival Bags like the Dior Saddle and It Bags like the Mansur Gavriel bucket bag fare? Get the full report.
5. Streetwear Is Currently Unstoppable
Fashion's obsession with streetwear saw no signs of slowing with search demand growing a whopping 281% this year. The trending styles at the top of list? Bucket hats up 365%, cargo pants up 111% and sneakers up 213%.
6. Smart Watches Might Be Over
Search for watches grew 132% overall this year, but Apple watches fell to the bottom of the pack at -94% below average while high value watches soared to the top at 79% above average. It was a trend we saw in sales too, as sales of watches priced $30k-$50k grew 126% compared to only 19% for watches $10k-$30k and 48% for watches $5k-$20k.
7. Logomania Is Invading Our Homes
Louis Vuitton for your living room, Hermès blankets for your bedroom — logos aren't just something people want to wear anymore. The resale value for home items with logos grew 5.5x more than those without. Some of the logo-centric home items with the highest search growth were Goyard pet accessories and Hermès blankets, and the piece that topped the list was all about heritage.
Want to know all the details? Read the full report here.